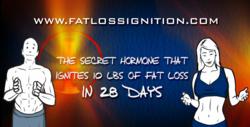 FLI recipes are bursting with healthy ingredients that reduce cravings, while leaving users feeling full faster and longer.
Denville, NJ (PRWEB) January 17, 2012
"When you learn to control the secret hormone in your body, you can end cravings, boost metabolism and ignite fat loss by turbocharging your body's fat burning ability," said Nitin Chhoda, co-creator of the Fat Loss Ignition system.
Regulating insulin levels is the key to losing weight, even unsightly belly fat. Co-created by two of the best known experts on fitness, Chhoda and Ricafranca has insured the system's included recipes burn fat, while offering taste and texture satisfaction.
The program is a revolutionary new way to address the issue of fat loss with delicious foods that even includes baked recipes. The program provides handy calculators to assist users in determining the maximum amount that can be consumed while still losing weight, based on gender, weight, height and body type.
There's no calorie counting involved and users will learn tips and tricks that allow them to eat their favorite dishes without guilt or remorse, simply by making small alterations to recipes. The FLI program features tasty treats that includes chocolate chip pancakes and milkshakes, along with quarter pound burgers and pepperoni pan fried pizza. Cheesy enchiladas and tacos are also on the menu.
Traditional diets leave individuals feeling hungry and deprived. FLI recipes are bursting with healthy ingredients that reduce cravings, while leaving users feeling full faster and longer. Combined with strategic mealtime planning, the FLI program controls the hormone responsible for weight gain and how the body utilizes energy. Individuals will also learn 21 tips to manipulate the fat burning hormone to eliminate energy crashes.
Over time, those who are overweight build up toxins in the body that hinders weight loss. The recipes available in the FLI program helps cleanse the body for accelerated fat loss. Exercises are also provided that intensify the fat loss process. The relationship between food, insulin levels and weight loss are explained in detail, allowing users to make healthy choices.
The FLI system comes complete with an extensive array of recipes for every meal. For a limited time, users will receive a bonus quick start guide, a Supermarket Survival Checklist and the Fat Loss Ignition Training Manual. An all-access family pass is included to the exclusive FLI Score Calculator that instantly lets users know how much they can eat and still lose weight.
The Fat Loss Ignition system addresses fat loss in a completely new way for a slimmer, healthier body. All men and women looking to lose weight can benefit from the program and lose 10 percent of their unwanted body weight in just 28 days. FLI provides a healthy eating plan for life that lets users eat their favorite recipes while melting away fat.
Located at 1301 Windsor Court, Suite I in Denville, NJ 07834, the company can be reached by email at info(at)fatlossignition(dot)com, or by visiting the website at http://www.fatlossignition.com.
About the Creators
Awarded by the President's Council on Physical Fitness and Sports for helping America get fit and healthy, Arnel Ricafranca is a world-renowned fitness professional and fat loss expert. He is the publisher of an online fitness newsletter called "Abs Secrets," read by half a million readers in over 170 countries. He has a degree in Exercise Science with multiple personal training and nutrition certifications. Along with Nitin Chhoda, PT, he is also the creator of the Fat Loss Ignition system, located online at http://www.fatlossignition.com.
# # #