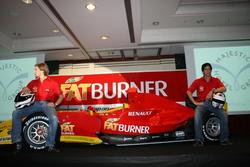 Tallinn, Estonia (PRWEB) March 6, 2009
KC Grupp is pleased to announce an advertising agreement between fitness drink Fat Burner and the GP2 team Racing Engineering.
KC Grupp is an internationally active investment company of the Estonian entrepreneur, Margus Reinsalu. The Reinsalu-owned Fat Burner entered the partnership with Racing Engineering with an aim to bring the Estonian product Fat Burner to the international market.
"Fat Burner is very happy and proud to be the title sponsor of Racing Engineering's GP2 team this season. Last year, I sponsored the team with KC Grupp and I was delighted that Racing Engineering's driver, Giorgio Pantano, won the Drivers' Championship. Such experience, and the fact that GP2 Series presents such an attractive marketing tool for our company, has assisted our decision to continue being linked to the sport and Racing Engineering," says Reinsalu.
Being involved in a championship as competitive and exciting as GP2, and having entered a partnership with a team with a high success rate, reflects the fitness drink's business strategy of always aiming for the top. The team will be participating in GP2 as "Fat Burner Racing Engineering".
Fat Burner is a beverage created in Estonia in 2004 with specialists from body building and fitness associations. It is a Green Tea based functional drink with L-Carnitine, a natural amino acid, which helps the body burn fat while converting it into energy, especially during training and any moderate physical exercise. Initially created for those involved in the fitness and sporting industry, it has rapidly turned into a mainstream drink for everyone. The fitness drink is now available in a ready to drink 0.5L bottle in three different flavors and with three different levels of L-Carnitine.
In 2007, entrepreneur and KC Grupp's owner Margus Reinsalu discovered the product and its potential to help people, and founded the company ToneTea together with his business partner Greg Grace. ToneTea acquired the rights for Fat Burner in the summer of 2008 with the aim to market it worldwide. At the moment, Fat Burner has been launched in nine countries and it will soon be available in Spain.
For further information on Fat Burner, please visit: http://www.fatburnerdrinks.com or contact us by e-mail: info (at) tonetea (dot) com. For more information on GP2 team Racing Engineering please visit http://www.racing-engineering.com/en09/index.php.
# # #