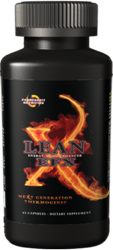 Lean EFX® has served us very well and continues to be our number-one weight loss supplement.
Hutto, TX (PRWEB) October 04, 2011
Fahrenheit Nutrition, a rising force in the sports nutrition industry, unveiled its new line of product labeling on Friday that showcases the company's vision for Fahrenheit's next generation of products.
Company CEO, William Mellors explains, "This exciting family of labels truly embraces the energy and passion our team brings to what we are doing - which is bringing, hands down, the most cutting edge formulations available anywhere in the nutritional supplement industry."
The new look is characterized as extreme, passionate, and inspired - just like the products Fahrenheit Nutrition is bringing to the table.
The most noted change is the labeling for Fahrenheit's benchmark product, Lean EFX®, a potent, next generation thermogenic that has been wildly popular, particularly among women.
Mellors wants to be very clear that the formula for Lean EFX® has not changed or been altered in any way. "Lean EFX® has served us very well and continues to be our number-one weight loss supplement. We have not, nor do we intend to alter the Lean EFX® formula in any manner. We believe Lean EFX® is the strongest thermogenic / mood enhancer available anywhere in the U.S. within its price class."
On the heels of new product labeling is the announcement that the company website, FahrenheitNutrition.com is undergoing major renovations, also to better reflect the nature of Fahrenheit's advanced product development. Mellors expects the new site to launch within the next 90 days. "I've seen glimpses of the new design, and I am unbelievably excited. I hope to unveil the new site by December 31st, marking the end of a formidable year for Fahrenheit Nutrition and opening the doors to 2012, a year we believe will be our most exciting yet."
To learn more about Fahrenheit Nutrition and its line of cutting-edge supplements, visit http://www.fnutrition.com. Consumers are also encouraged to follow Fahrenheit Nutrition on their growing Facebook site @ facebook.com/fnutrition.

These statements have not been evaluated by the Food and Drug Administration. These products are not intended to diagnose, treat, cure or prevent any disease.
Media contact:
Bruce Davis
Farenheit Nutrition
404-585-5441
bdavis(at)nationalsupplementgroup(dot)com
###