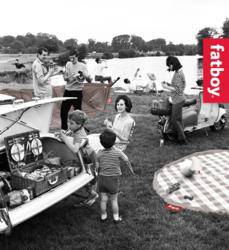 "With a greater focus on outdoor gatherings, which brings friends and family together, the summer movie series is an ideal setting. And it gives people the opportunity to give back." says Paula Masters, President and Managing Director for Fatboy USA.
Dallas, Texas (PRWEB) May 23, 2011
Fatboy USA announced today they will be partnering with the W Los Angeles-Westwood for their 5th anniversary summer movie series at WET, SHOW ME THE MOVIES! The highly anticipated SHOW ME THE MOVIES! Summer Cinema Series is used to help raise awareness and funds for Make-A-Wish Foundation of Greater Los Angeles. For every $5 donation, guests will receive a ticket to be entered into a drawing for a one-night stay at W Los Angeles and for a Fatboy® prize package.
Fridays at sunset starting May 27th through September 2nd, guests will experience movie magic under a blanket of twinkling stars in the stylish yet relaxing surroundings of the W Los Angeles' open-air WET pool. W Los Angeles and Fatboy will capture the spirit of drive-in theaters by transforming the iconic WET pool, into an ultimate outdoor movie theater complete with several 50" plasmas and a large projection screen, giving guests excellent viewing experience while lounging on a Fatboy® knapsack or Fatboy® avenue.
Paula Masters, President and Managing Director for Fatboy USA, believes the SHOW ME THE MOVIES series will be a huge hit again this year. "With a greater focus on outdoor gatherings, which inspires to bring friends and family together, the summer movie series is an ideal setting. And, it gives people the opportunity to give back." Mrs. Masters goes on to say, "The Make-A-Wish Foundation does great work in hundreds of communities across the nation and we are proud to be working with them and the W Los Angeles to make wishes come true for children in and around Los Angeles."
As guests relax on a Fatboy and wait for the film to begin, they can indulge in a selection of summer-themed delectable theater favorites from The Backyard menu, created by new Executive Chef Dakota Weiss. Freshly popped popcorn from a classic popcorn cart as well as a variety of classic candies, artisanal cheese plate, specialty drinks, wine, and gourmet potato chips will be available to enhance the guest's movie experience.
This delightfully lavish evening requires no reservations and admission is free. Guests can help make wishes come true by making a donation. Doors open at 7:00PM and guests are advised to arrive early, as space is limited and in high demand. Dinner and cabana reservations are available by calling 310.443.8218. W Los Angeles-Westwood is LA's modern oasis – a contemporary chic retreat to fulfill every guest's whims and wishes, creating the picture perfect evening. For more information, please visit http://www.wlosangeles.com/movienight.
DATE - FILM
May 27 Toy Story 3
June 3 Nanny McPhee
June 10 Twilight Saga: Eclipse
June 17 Despicable Me
June 24 Life as We Know It
July 1 The Kids are All Right
July 8 Shrek Forever After
July 15 Going the Distance
July 22 Eat Pray Love
July 29 Due Date
Aug. 5 Charlie St. Cloud
Aug. 12 Little Fockers
Aug. 19 The King's Speech
Aug. 26 No Strings Attached
Sept. 2 The Social Network
ABOUT FATBOY® USA
Fatboy® has been challenging the concepts of lifestyle product since 2002, when it set out to create the perfect lounge chair— designed for fashion, for comfort, and tailored for an unmatched lounging experience. Fatboy enjoys looking at the world as a diorama, viewing all the world's splendors from different perspectives with a positive attitude. We get inspired and joyful by playing with the scale of things and simultaneously putting things in perspective. Today, the original oversized beanbag brings energizing comfort and smiles to people in over sixty countries worldwide. Fatboy has elevated the lounge chair from basic to fashion-forward including a wide range of colors, fabrics and styles in both indoor and outdoor options. The Fatboy lifestyle is a delicious mix of sympathy, tolerance, openness, humor and of course, all while chillaxin! Wrap yourself in the Fatboy experience and share the joy. http://www.fatboyusa.com
ABOUT W LOS ANGELES - WESTWOOD
A stylish contemporary escape in the heart of Westwood, W Los Angeles - Westwood is a sanctuary within the bustling city. Located on two acres of lush landscaping, this modern oasis offers 258 one- and two-bedroom Thom Felicia-designed suites, more than 4,000 square feet of meeting space, state-of-the-art technology and world-class service. At W Los Angeles, guests can enjoy the ultimate W lifestyle: dine at the critically acclaimed restaurant NINETHIRTY; indulge in cool, sophisticated nightlife at Whiskey Blue; relax poolside in a private cabana while enjoying cuisine from the poolside bistro, The Backyard, and enjoy 'BIP' status with poolside blissages with bliss® los angeles. Centrally located within minutes from Beverly Hills/Rodeo Drive, Hollywood, and the coastline, W Los Angeles enjoys a prime location in beautiful Westwood Village offering easy access to key interest points such as UCLA, the Armand Hammer Museum and the Geffen Playhouse. For more information on W Los Angeles - Westwood, please call (310) 208-8765 or visit http://www.wlosangeles.com.
ABOUT THE MAKE-A-WISH FOUNDATION OF GREATER LOS ANGELES
The Greater Los Angeles chapter of the Make-A-Wish Foundation was formed in 1983. Since the chapter's beginning, nearly 7,300 wishes have been fulfilled for children living in Los Angeles County with life-threatening medical conditions. For more information about the Make-A-Wish Foundation of Greater Los Angeles including how you can help refer a child for a wish; participate in Adopt-A-Wish®; or donate in-kind gifts of goods or services, airline frequent flier miles, or vehicles, please call (800) 322-9474 or visit http://www.wishla.org.
ABOUT CHOICE HOSPITALITY GROUP
Choice Hospitality Group, Inc. is an innovative hospitality company that owns, operates, and manages some of the most acclaimed restaurants and nightlife destinations in Los Angeles's fashionable Westwood and Hollywood communities. As a full-service management firm, Choice Hospitality specializes in creating and developing vibrant, design-oriented, high-concept venues along with all aspects of day-to-day restaurant and hospitality management. Choice Hospitality's collection of high-profile restaurants includes: NINETHIRTY at the W Los Angeles – Westwood hotel, honored for two years running as one of the "Top 50 Restaurants in L.A." by Angeleno magazine, as well as The Backyard restaurant, honored for "L.A.'s best outdoor dining," also at the W Los Angeles – Westwood hotel. Choice also manages the Food & Beverage Department at the W Los Angeles including In-Room Dining, Banquets & Catering, and food service for Whiskey Blue bar. In Hollywood, Choice is a partner in Vanguard nightclub, The Fairfax Bistro, and the management company for up-and-coming Lexington Social House. Choice also played a key role in launching the legendary nightclub Playhouse Hollywood. Since 1999 Choice's management team has been responsible for nearly a dozen of the most popular and successful restaurants, bars, lounges and nightclubs in Southern California. These include: Tengu – Westwood Village, Fuel Bar, Naçional, The Ivar, Paladar Bistro Cubano, The Lincoln Steakhouse Americana, Holly's, Venice Cantina, Holly's West, and Tengu – Santa Monica. For more information about Choice Hospitality Group visit http://www.choicehospitalitygroup.com.
# # #