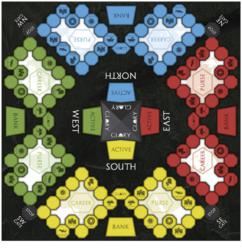 "There is a massive need for new tools to teach world history"
New York, NY (PRWEB) April 18, 2012
On Friday, April 13, Joe Ballou and Jonathan Ng, two history teachers, launched a board game called Glory on Kickstarter, the crowd-funding platform. They are looking to raise $12,000 by May 17th. The game and associated technology appeal to gamers and teachers alike. The project seeks to address problems such as low student achievement in the social studies and high drop out rates.
Glory is part of a project called Fate of Civilizations, a game-based learning curriculum for world history. Ballou and Ng, the creators, were both Teach for America corps members in the Bronx, NY. They met in 2009 at the Bronx Preparatory Charter School, where Ng still teaches. While working together they pioneered the use of games and performance tracking in the classroom, designing several original board and strategy games and using Diplomacy, Hasbro's famous WWI game.
In early 2011, Ballou and Ng agreed that they could have a wider impact on education by leveraging their experience to develop a game based learning curriculum for world history. "There is a massive need for new tools to teach world history" said Ballou. "The subject is taught in the majority of schools around the country, and yet students aren't taking away critical understandings or core skills and knowledge." He added, "a game-based curriculum can engage students and generate critical performance data to help teachers remediate weaknesses and enrich advanced students. It unlocks the ability of a teacher to go deeper into the subject matter."
The game development began in the summer of 2011. The team play-tested Glory with friends, family and colleagues. While 95% of early testers agreed the game was fun and a good tool for review, "we constantly reworked both the game mechanics and the historical content," said Ng. In March, he used the game in his classes to help his students review before spring break.
The game is being piloted currently at a high school in Big Piney, Wyoming, and Ballou reports that several other schools are interested in or plan to use the program this spring. Central to the program is a proprietary web application that teachers can use to track student performance and guide differentiated instruction. Ballou and Ng have just completed the first version of the software.
The Kickstarter campaign will run for one month, and Ballou says that they are hoping to gain significant traction. "If we can prove that there is interest in this kind of solution, then we can continue to develop our revolutionary learning program," he said. While selling supplementary teaching tools to world history teachers is a niche market, he says they envision having a broader reach. "We love world history and the curriculum definitely needs a reinvention, but we've hit on a model that has application to all subjects."
For Kickstarter backers, Fate of Civilizations offers several rewards, including a graphic novel drawn by Ng, who also drew pictures in the project's pitch video. The game itself, which is available for a pledge of $75, will ship in September.