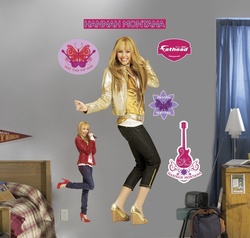 Hannah Montana rocks! Disney Pixar Cars characters roll! And Pirates swashbuckle! It's just that simple
LIVONIA, Mich. (PRWEB) December 17, 2007
"Hannah Montana rocks! Disney Pixar Cars characters roll! And Pirates swashbuckle! It's just that simple," said Brock Weatherup, Fathead CEO. "We are thrilled to be offering Disney fans of all ages a unique way to decorate their homes with images from these popular franchises."
A "Fathead" is a bold, colorful, life-like, life-size wall-graphic of well-known stars. Fathead is an especially popular brand among sports fans, teens and tweens, moms, dads and gift-givers. A special adhesive backing allows them to be moved from wall to wall, making them a mobile and fun part of any family's home decor.
Each image captures the essence of the character it portrays. Fathead images are perfect for decorating a bedroom, office or entertainment area and can be purchased by visiting the company's website, http://www.fathead.com, at select retailers, or by calling (877)-FATHEAD.
About Fathead LLC: The Livonia, Mich-based company, whose products are commonly referred to as Fatheads, takes pride in connecting fans with their passions. Fathead has become the preferred home, personal and lifestyle decor purchase for sports and entertainment enthusiasts of all ages. The most popular Fathead product line consists of a colorful vinyl wall graphic of popular sports stars, NASCAR race cars and entertainment characters. Fathead LLC maintains license agreements with the NFL and PLAYERS INC., Disney Consumer Products, Inc., Collegiate Licensing Company, Licensing Resource Group, Inc., MLB and MLBPA, NASCAR, NBA Entertainment, MLS, Action Sports, NHL and NHLPA, Dallas Cowboys Cheerleaders, Lucasfilm, Ltd., Twentieth Century Fox Film Corporation, Gracie Films, Time, Inc., Marvel Characters, Inc., Columbia Pictures Industries, Inc., and WMG. Fatheads can be seen and purchased at http://www.fathead.com or 1-877-FATHEAD and will soon be available at preferred retailers throughout the United States.
Fathead LLC is a privately-held company led by Dan Gilbert, chairman and founder of Quicken Loans, the nation's largest online mortgage lender. Gilbert also is Majority Owner of the NBA's Cleveland Cavaliers basketball team. Dan and his partners also operate Flash Seats LLC, which replaces physical tickets for sporting events with an electronic approach; and the American Hockey League's Lake Erie Monsters franchise, that began play at Cleveland's Quicken Loans Arena in the 2007-08 season. Other companies in which Gilbert and his partners have invested include Michigan-based online promotions company e-Prize.