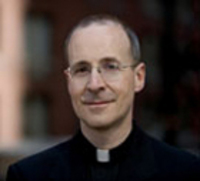 My Life with the Saints
Chicago, IL (Vocus) February 23, 2009
Best-selling author and Catholic commentator Fr. James Martin will be a guest on The Colbert Report, February 23, 2009.
Known for his wit and depth of insight on Catholics and culture, Martin has been a frequent guest on several mainstream media shows talking about everything from Mother Teresa to the latest Oscars. Tonight, Colbert fans will be treated to a lively discussion and "battle of wits" between Colbert and Martin.
Appearing as a guest on the Colbert Show is only one twist in Martin's interesting life journey. From the executive fast track at GE to ordination as a Jesuit priest, James Martin has lead a rather exciting life. His ministry as a Jesuit has brought him to the slums of Nairobi, the projects of inner-city Chicago, and now to a media career in Manhattan.
Besides writing for America, a national Catholic magazine, Martin has authored several books including the best seller "My Life with the Saints", which has sold more than 80,000 copies.
For an interview with Fr. James Martin or to obtain a reading copy of "My Life with the Saints," contact Michelle Halm 312-505-2063; 773-529-3789; Halm (at) loyolapress (dot) com
Loyola Press, founded in 1912, is a nonprofit publishing company committed to meeting the spiritual and educational needs of individuals, parishes, and families by providing resources that support children's faith formation, language arts education, and whole-community catechesis. As an a apostolate of the Chicago Province of the Society of Jesus (the Jesuits), Loyola Press is dedicated to providing a wide variety of literature on topics including Ignatian prayer & spirituality, saints, ongoing spiritual growth, Catholic life.
Contact:
Michelle Halm
Marketing Coordinator
773-529-3789
Halm (at) loyolapress (dot) com
# # #