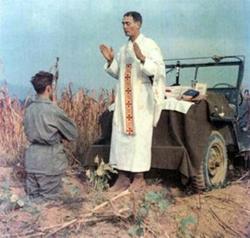 "Kapaun's friends do not consider themselves experts on miracles, but they know what they saw, and as far as they are concerned, the man himself was something like a miracle." - author/producer Roy Wenzl
Washington, DC (PRWEB) April 09, 2013
WHAT – Award-winning journalist Roy Wenzl will screen the short documentary, THE MIRACLE OF FR. KAPAUN, and discuss his new book of the same name. Interview opportunities with Wenzl are available throughout the day of the event.
WHEN – The event will be held at 6:45 p.m. ET Wednesday, April 10.
WHERE – The screening and Q & A with the author/producer will be conducted at the Catholic Information Center at 1501 K Street, NW, Washington, DC 20005-1401.
WHY – Wenzl is promoting his new book, THE MIRACLE OF FR. KAPAUN, and the DVD, which both chronicle Fr. Kapaun's inspiring life story, his heroic work as a chaplain during battle, and his leadership and comfort of fellow American prisoners after capture and torture by the Communists during the Korean War. Fr. Kapaun will receive the Medal of Honor posthumously at a White House ceremony slated for Thursday, April 11. He is being considered by the Vatican for canonization as a saint.
ABOUT WENZL – Roy Wenzl is an award-winning reporter for the Wichita Eagle. He is the primary author of Bind, Torture, Kill: The Inside Story of the Serial Killer Next Door (Harper Collins, 2007).
__title__ Trailer to The Miracle of Fr. Kapaun]