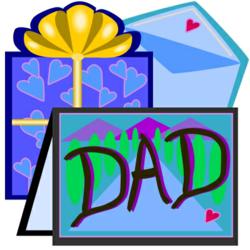 Celebrity dads aren't often associated with frugality, but there are some out there who choose to make saving a lifestyle, no matter how much they earn.
EL SEGUNDO, CA (PRWEB) June 14, 2013
The vast majority of parents (90 percent) recognize that teaching financial literacy for kids is central to their parental duties, according to a survey from Parenting.com. One in four parents (27 percent) think that the best way for teens to learn about money management is by example, according to Charles Schwab's Parents & Money Survey – and dads play a big part in that, finds a new GoBankingRates.com report.
For Father's Day 2013, GoBankingRates looked to the world of the rich and famous to recognize seven fathers who are doing a great job modeling financial responsibility and frugal living.
"Celebrity dads aren't often associated with frugality, but there are some out there who choose to make saving a lifestyle, no matter how much they earn," says Stacey Bumpus, expert contributor to GoBankingRates.com. "These celebrity fathers serve as amazing financial role models for their kids."
From rock gods to NBA stars, this list of frugal celebrity dads includes some surprising faces of the type not usually known for their thrifty ways. Here's a preview of a few celeb dads who not only are great financial role models for their kids, but for all families this Father's Day.
1. Carmelo Anthony, NBA Player for the Denver Nuggets
As any parent knows, their actions can speak louder than their words, which is why it's important to model good money management as well as to teach it. Despite earning $19.4 million in 2012 from his NBA salary alone, Carmelo Anthony still models smart spending habits for his son, Kiyan.
"I go to the supermarket, make sure I get the newspaper and tear the coupons out; save a dollar or two," Anthony said in an interview with CBS Denver.
2. Dave Grohl, Frontman for the Foo Fighters
While he was a member of two wildly popular rock bands, Nirvana and Foo Fighters, Dave Grohl is not one to live the typical rock star lifestyle of excessive partying and spending.
"You can't take your lifestyle for granted," Dave Grohl said in a 2003 interview with USA Weekend. "I've got tons of money, but I'm afraid to spend it. Knowing I don't even have a high school diploma to fall back on, I'm going to be really careful with what I've got."
With another decade of success behind him since that interview, Grohl's thrifty ways have surely made an impression on his kids – and fattened up his savings account.
Additional names that made the GoBankingRates list include:
Mick Jagger
Paul McCartney
Darius Rucker
Eric Clapton
Warren Buffett
See the full report on thrifty celebrity dads: http://www.gobankingrates.com/savings-account/7-celebrity-dads-make-great-financial-role-models-fathers-day-2013/
For questions about this report or to speak with a GoBankingRates editor, please use the contact information below.
About GoBankingRates
GoBankingRates.com is a national website dedicated to connecting readers with the best interest rates on financial services nationwide, as well as informative personal finance content, news and tools. GoBankingRates collects interest rate information from more than 4,000 U.S. banks and credit unions, making it the only online rates aggregator with the ability to provide the most comprehensive and authentic local interest rate information.
Additionally, GoBankingRates.com partners with a number of major media outlets such as Business Insider and US News & World Report to provide compelling and edifying personal finance content. Its expert editors have been featured and quoted on several premier finance websites like Yahoo! Finance, Forbes, The Street, Huffington Post and more.
Contact:
Jaime Catmull, Director of Public Relations
GoBankingRates.com
JaimeC(@)GoBankingRates(dot)com
310.297.9233 x261
Sources:
Parenting.com, "Survey: Only Half of Parents Regularly Talk to Kids About Money," 24 April 2013.
Charles Schwab, "Charles Schwab 2008 Parents & Money Survey Findings," 2008.
CBS Denver, "Celebrities Offer Tips On How To Save Money," 9 May 2011.
USA Weekend, "Foo for Thought," 11 April 2003.
Feature image courtesy of Debspoons / FreeDigitalPhotos.net