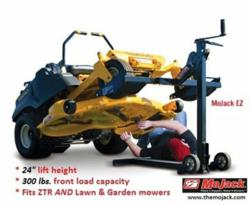 "This is the first Father's Day that the new additions will be available at Wal-Mart, both in-store and online"
Wichita, KS (PRWEB) June 06, 2013
Father's Day, June 16th, is just a few weekends away and MoJack Distributors, LLC is making final preparations for the seasonal surge. With two lawnmower lift models added to the product line in 2013 (MoJack ZR Lift and MoJack Push Mower Lift), MoJack representatives are confident this Father's Day will bring an increase in sales and traffic.
A MoJack lift is a perfect unique gift for Dad, brother, or son. The average end-user of a MoJack mower lift is a male, age 35+, making a MoJack mower lift a practical and popular Father's Day gift.
"This is the first Father's Day that the new additions will be available at Wal-Mart, both in-store and online," says Audra Hanson, Marketing Director at MoJack. "The ZR gives great depth to our product line because of its unique scissor lift design for stability. The push mower lift helps us reach that large segment of non-riding mowers we have not targeted before."
Every MoJack mower lift is designed with three goals in mind: to make lawn mower maintenance easy, fast, and safe. Whether replacing or sharpening the mower blades or cleaning the mower deck, MoJack lifts are simple to set up, use and store away. The riding mower lifts are engineered to adjust to fit almost every size of lawn tractor or riding mower, including zero turning radius models. Consumers are finding the lifts so versatile, they are being used to raise other riding equipment such as ATVS and golf carts.
The MoJack EZ is sold in-stores and on-line at Lowes, Home Depot, Sears and Amazon and NEW for this Father's Day buyers can find the MoJack ZR and Push Mower Lift at Wal-Mart retail stores and online at http://www.walmart.com.
For more information, visit themojack.com, or contact MoJack directly by phone at 1-877-4MO-JACK.