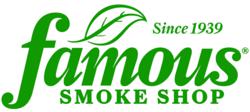 ...at this time of year we want to provide guidance for people looking for Father's Day gift ideas at all price points.
Easton, PA (PRWEB) May 28, 2013
Famous Smoke Shop is the nation's #1 discount retailer of online cigars, providing smokers with the web's best cigar selection, expert customer service, competitive pricing, and a wide variety of special offers and ways to buy cigars. As a customer-oriented company, Famous Smoke Shop frequently sends sales, discounts, and coupons via e-mail, Facebook, Twitter, printed catalogs, and other channels to their customer base.
The company recently released the June 2013 issue of their printed catalog, coinciding with the Father's Day shopping season. The cover of this issue features a sampler pack by the renowned Alec Bradley Cigar Co. made exclusively for Famous Smoke Shop. The sampler features 10 premium Alec Bradley cigars, including 4 that are exclusively available from Famous Smokes. It is packaged in a keepsake gift box that commemorates the occasion and has an inlaid picture frame, which makes it an attractive and customizable Father's Day gift.
Special offers in this catalog include bonus accessories with H. Upmann, Rocky Patel, Trinidad, El Primer Mundo, and many more. Famous Smokes is also offering a $20 instant rebate on all $100+ purchases of Baccarat cigars, and giving away cigar samplers with purchases of Cusano, Padilla, My Father, Jaime Garcia, and more. The company is also proving free shipping on hundreds of boxes from a wide variety of cigar brands.
The 84-page catalog also details two special contests that are running during the month of June. The first is a chance to win an iPad Mini with the purchase of EP Carrillo cigars, and the second is a sweepstakes where customers can win a CAO Jukebox Humidor valued at $2,500 by purchasing CAO cigars.
"This issue of our catalog is designed to offer cigar enthusiasts the best possible value on as much of our inventory as we could fit into 84 pages," said Famous Smoke Shop VP of Operations Michael Vandenstockt. "However, at this time of year we also want to provide guidance for people looking for Father's Day gift ideas at all price points. Even someone not familiar with cigars can easily select from a variety of terrific gift options, and experienced smokers will be amazed at the depth of our offerings. No matter what our readers are looking for they will find it in this catalog, and they can be comfortable knowing we'll be providing them with a high quality product and the best bang for their buck regardless of what they choose."
The catalog began reaching Famous Smoke Shop mailing list subscribers on May 27th, with full delivery expected on or before June 1. All prices, contests, and special offers will be valid until June 30.
People interested in receiving a copy of the catalog or learning more about Famous Smoke Shop, the featured contests, or any of the other promotions offered in June should visit Famous-Smoke.com or call their customer service department at 800-564-2486. The website features a detailed description of the contest prizes offered, as well as contest rules, regulations, and how to enter without purchase.
About Famous Smoke Shop
Famous Smoke Shop is the nation's #1 discount retailer of premium cigars online, offering one of the largest selections of handmade cigars, machine-made cigars, cigar humidors and accessories. Famous offers the web's lowest prices on a wide selection of cigar brands including Acid, Macanudo, Romeo y Julieta, Punch, Ashton, Padron, Oliva and Perdomo cigars, and many more. Famous also offers a free monthly catalog and has been recognized as a Bizrate© Gold Honoree for excellence in customer service, product selection, customer satisfaction, and per-dollar value, as well as the Bizrate© Circle of Excellence Award for the fourth year in a row.