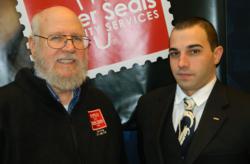 Washington, DC (PRWEB) June 04, 2013
If you thought father and son partnerships in the workplace were a thing of the past, look no further than Easter Seals Serving DC | MD | VA.
When Daniel Seidel was growing up in Tallahassee, Fla., he was constantly exposed to veterans of the Vietnam War and other American conflicts. Meanwhile, his father, Stan Seidel, a Vietnam veteran himself, was helping veterans find their way back to the workforce.
What neither of them could envision at the time was that they would be working together, 25 years later, helping Easter Seals assist veterans overcome employment barriers.
This Father's Day, Easter Seals celebrates Stan, the father who's worked hard to help launch and sustain several veterans programs – including the new Veteran Staffing Network (VSN) – and Daniel, the son who has followed in those footsteps as he works full-time to secure meaningful employment for veterans at Easter Seals.
VSN is an innovative social enterprise launched by Easter Seals Serving DC | MD | VA that addresses the needs of the veterans, wounded warriors, members of the National Guard and Reserves and their families seeking to transition to meaningful civilian employment, and the employers who want to hire and retain highly trained leaders.
For more information on Easters Seals military and veterans programs, visit eseal.org.