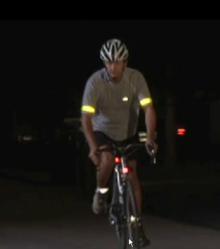 These products are a must for all outdoor activities at night. Whether you are biking, walking, jogging, skiing, etc., be seen and be safe!"
Boulder, CO (PRWEB) May 31, 2012
How about a Father's Day gift that keeps dad safe year round?
Vedante's POP BANDS, which pop on like snap bands, use new technology and bright colors to reflect up to 1500 feet, while similar products only reflect 100-600 feet. Yellow and white POP BANDS are reflective up to 1,500 feet. They can be popped onto arms, legs, bikes, scooter handles and backpacks.
They have been developed in partnership with 3M. POP BANDS are available in a wide array of fun, fashionable colors and provide 360° visibility at night.
They are made with a special retro-reflective technology; POP BANDS are designed to reflect a large amount of light directly from a light source such as a car's headlights. The best part is they reflect in a wide array of colors (White, Yellow, Tangerine, Pink, Blue, Green and Red).
The suggested retail price is $12.98 for a pair of size medium bands and $13.98 for a pair of size large bands.
Customers report that they purchase POP BANDS because they are looking for inexpensive, unique, and fun gifts that make a difference. On Amazon.com, POP BANDS® remain in the top of both wish lists and bestseller lists.
Vedante has intentionally kept retail prices low. POP BANDS® are inexpensive and high quality. See below for the list of benefits for this innovative product.

POP BANDS® are a life-saving product
Much more reflective than similar products - up to 1500 feet
Inexpensive
Ideal for nighttime walking, biking, and jogging
Keeps sports fans reflecting in team colors
Provides visibility during warm summer nights
Available for purchase through Amazon.com and Vedante, as well as from select retailers (http://vedante.com/shop.html).
Amazon customers rank Vedante's POP BANDS® very high and have been giving top notch reviews: "I LOVE these POP BANDS … I use them when out on nighttime dog walks and feel safe knowing I can now be seen by cars. These products are a must for all outdoor activities when visibility is a safety issue. Whether you are biking, walking, jogging, skiing, etc., be seen and be safe!"
Vedante also offers other super-reflective pet products. Vedante's cat collars, dog collars and leashes are available in an array of colors including red, silver, and gold. The super-reflective cat and dog products sell at a suggested retail of $11.98 to $45.98
About Vedante:
CEO Barbara Kantor founded Vedante in 2006. Barbara's inspiration came during an evening walk when she witnessed a pedestrian being struck by a car. The pedestrian, in a cross walk, was unaware of the driver's inability to see her. Deeply impacted by what she saw, Barbara delved into research on safety and visibility and then studied reflective products that were currently on the market. Barbara's research and her 25 year background in fashion design led to her development of Vedante reflective safety products that are attractive and easy to use.
Vedante is a company committed to saving lives by increasing nighttime visibility and decreasing accidents through education, awareness campaigns, and "fashion that reflects well on you."
Vedante has consistently ranked among the top 10 best sellers in the United States at Amazon.com in its respective categories for super-reflective POP BANDS and pet accessories.
To locate a local retailer visit http://www.vedante.com.
For safety tips, deal alerts and fun stories follow Vedante on:
Facebook: http://www.facebook.com/Vedante
Twitter: http://twitter.com/VedanteFDN