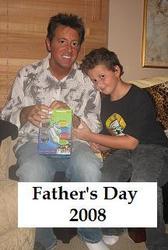 Los Angeles, CA (PRWEB) June 3, 2008
Make Dad's Father's Day gift stand out from the crowd this June 15, 2008. Forget about ordinary gifts like an iPod nano, a pair of Simpsons underwear, or an outdoor barbeque. Brad Pitt, Tiger Woods, and Tom Cruise don't get a necktie-in-a-box for a Father's Day gift, right? So, whether Dad is thirty-something or holding on to 49 with a vengeance, here are the top five unique and somewhat unusual gifts guaranteed to put a smile on dad's face this Father's Day.
1) Be A Top Gun Pilot For A Day. It's hard to beat the rush of being a Top Gun Pilot in a real fighter jet. From Miami to Las Vegas, Prague to Sydney, a number of companies have tapped into testosterone with everything from simulated dogfights in a Russian MiG jet to acrobatic maneuvers or simply a leisurely panoramic ride-along in a T-6 trainer jet. Cost: Varies from several hundred dollars to several thousand, depending on the complexity of the experience and length of time in the cockpit.
2) Hair Today--Gone Tomorrow? What man doesn't secretly yearn for his carefree youth and memory of a lush head of hair? If dad is starting to go bald, why not get him some hair? Hair plugs leave dad's head looking like baby doll hair. However, non-surgical hair replacement will leave dad with a natural looking hairline, hair that matches his unique shade and texture, and a look that will make him feel ten years younger. On the West Coast, Los Angeles boasts Thursdays Spa http://www.Thursdays-Spa.com and on the East Coast, New York's Riviera Hair Restoration http://www.RivieraHairReplacement.com, are two non-surgical hair replacement facilities that are discreetly transforming lives. Cost: Prices start around $1,000.
3) Put The Pedal To The Metal. If the man in your life has a need for speed, or his favorite movie is "Smokey and the Bandit", then give him a driving experience he won't soon forget. Coast to coast, from Fontana in California to Alabama's Talladega Speedway, Daytona and Indy, there are driving experiences tailored to Dad's favorite vehicle and favorite race celebrity, be it Indy-style race car, Formula 500 vehicle, or a race-prepped BMW Z3. Cost: Pretty affordable, starting at $100 or so for a ride-along option at some schools, to several hundred for a multiple-day experience.
4) Back Hair--Yuck! How about a Father's Day gift that cleans up dad so that he can hit the beach without people staring at the hair on his back? If Dad wants a silky smooth back or chest, gift him a Father's Day gift certificate to any of the number of experts who specialize in back, neck, stomach, and chest hair waxing and removal. Cost: For the price of a prime steak dinner with cocktail, this is a treatment that will leave dad's back feeling as soft as a newborn's rear end.
5) Anti-Aging Rejuvenation Minus The Surgery. Why spend ten thousand dollars and endure a lengthy recovery for a traditional facelift if a short series of once-a-week treatments will accomplish the same youthful glow for a fraction of the price? The ULTRA+Lift system, the newest rejuvenation remedy, engages a combination of micro-current, ultrasonic and light therapies to rejuvenate, exfoliate and brighten the outer layer of skin. This non-invasive treatment works to restore and redefine facial muscles, reduce fine lines and wrinkles, as well as tighten and tone sagging muscles. Cost: A complete facial treatment runs approximately two Ben Franklins. Compliments from friends and family? Priceless!
So, don't let dad down this Father's Day. Gifts that will make him feel younger and satisfy his desire for action will make this one Father's Day that is especially memorable.
###