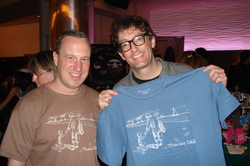 I believe in Thanks Dad with all of my heart
Vail, CO (PRWEB) April 24, 2009
Thanks Dad, a new apparel line established on the sentiments of gratitude and family love, was proud to showcase its merchandise at a recent celebrity gift room associated with the Nickelodeon Kids Choice Awards in Studio City, California. Invited by Nancee Borgnine and Steve Stein of Connected Celebrity Gift Rooms, Thanks Dad made a commendable impression upon some of Hollywood's brightest stars. "I believe in Thanks Dad with all of my heart," said CEO Tom Kiddoo. "To see the genuine, heartfelt reaction of so many others to Thanks Dad's message was more than I could have hoped for!"
Looking forward, Kiddoo sees opportunity to give back to the community while spreading Thanks Dad's messages of appreciation and family values. "Inspired by my love for my father and my children, Thanks Dad is truly unique," says Kiddoo. "It is a sincere and genuine expression of unconditional love… a snapshot of a memory captured for all to display proudly."
Returning from Hollywood with kudos from the stars, Kiddoo is focused on his first charitable endeavor; a Father's Day sale at his son's elementary school. "Five percent of sales earned at my son's school during the month of May will be given back to the school," said Kiddoo. "If anything, I see Thanks Dad as a vehicle to give back to the community."
There is no truer, longer-lasting bond than that of a parent and child. Thanks Dad celebrates this special connection with a unique line of clothing and accessories that expresses fundamental emotions in innumerable heartfelt ways on Mother's Day, Father's Day, and every day throughout the year.
Thanks Dad T-shirts are made solely in the USA from 100% cotton. They are tagless and designed with an eye toward fashion and fit for any age wearer - from a small child to an extra-large adult. Available in a range of sizes in six inspiring colors, the narrow crew neck looks great on men, women and children alike.
For more information, to order Thanks Dad products, and to see Thanks Dad's newest celebrity fans, please visit us on the web or join the Thanks Dad Facebook group page.
###