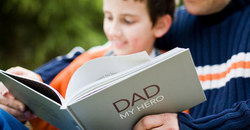 When shopping for Dad, the thing to remember is that the true value of a gift is not its price, but its significance
Seattle, WA (PRWEB) June 7, 2010
"Believe it or not, there was a time when a scented bar of soap was one of the nation's top gift choices for Father's Day," says creative director Dan Zadra of Compendium Inc. "For some reason, we tend to choose thoughtful gifts on Mother's Day, but a few weeks later we give soap-on-a-rope to Dad and call it good."
Compendium is one of the foremost designers of inspirational gifts, and the winner of last year's prestigious Louie Award for the nation's "Best Greeting Card." According to Zadra, "When shopping for Dad, the thing to remember is that the true value of a gift is not its price, but its significance. Dads won't always admit it, but the gifts they love most are usually the little sentimental ones."
Here are Zadra's Top 5 Father's Day gift ideas under $20:
1) Frame a photo of you and your Dad—at a fishing trip, sporting event, or your graduation ceremony—and include a simple but meaningful note, such as: "Dad, thank you for always being there for me."
2) Write a letter describing some of your favorite childhood memories with your Dad.
Was he in the audience at your school recitals, or standing in the rain on the sidelines at your soccer games? Let him know that all those little moments meant the world to you.
3) Buy a tree for his yard. Include a heartfelt message. If it's an oak tree, thank him for his strength through the years. If it's an apple tree, remind him that the apple never falls far from the tree—and that you're proud to be his son or daughter.
4) Let him know that he's your hero. At Compendium's e-gift store http://www.live-inspired.com one of the most sought-after gifts for Dad is a handsome book of inspiring quotations about great dads, aptly entitled, "Dad, My Hero." Write a hand-written message to your Dad on the inside flyleaf, and you'll create a gift he's sure to treasure.
5) Finally, here is Compendium's all-time best-selling gift for Dad—a unique hardcover book entitled, My Dad: His Story, His Words. This little book is filled with intriguing questions such as, "Dad, when you were a kid, what was your neighborhood like?" and "Dad, what's the best thing your mom or dad ever taught you?" The questions spark memories for your dad, and the answers are written in his own handwriting. This book costs just $10, but it creates a priceless family keepsake—something that will be cherished by your entire family for generations to come.
###