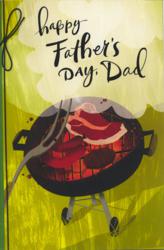 Kansas City, MO (PRWEB) June 06, 2013
Dads come in all makes and models, and there's no one-size-fits-all mold for Dad relationships. To connect with Dad on his special day of recognition, turn to Hallmark Gold Crown® stores nationwide for just-right Father's Day cards and gifts.
"Dads tend to be humble and may say they don't want the attention, but that doesn't mean they don't deserve a special effort on Father's Day," said Shelley Patenaude, product manager at Hallmark. "Finding a card or gift that makes a personal connection – recalling a shared experience or hobby, or something you'll both laugh over – helps communicate those emotions that may be tough to express."
With a wide selection of Father's Day cards and an array of gifts that can be personalized, Hallmark Gold Crown stores deliver the right fit for Dads, Grandpas and any father figures.
Father's Day Cards
Hallmark Signature Collection – These cards for Father's Day are truly unique, just like a signature. The creative textures, fun embellishments, and clever messages will catch Dad's eye. For instance, a card with bacon and eggs crafted from fabric carries the message: "Hope your Father's Day is saturated in happiness!"
Shoebox Humor Cards – Hallmark's research shows that people are more likely to choose a funny card for Father's Day than for any other holiday. Shoebox cards offer a fun way to appreciate and acknowledge Dad through real-life experiences. For instance, "A dad is someone who can kick and save your butt in the same day. Thanks for both."
Magic Prints – These new cards provide a meaningful way for kids to add their own touch to a card for Dad or Grandpa. When a child uses the Magic Mitt applicator and places his or her hand on the card, a handprint appears, revealing a colorful pattern or message within the handprint. Some Magic Prints cards even allow the child to record a message for Dad.
Life is good® – This new card collection features Hallmark's partnership with the Life is good® Company with cards perfect for Father's Day. These cards play up the great outdoors and encourage Dad to relax and enjoy his day.
Hallmark.com also offers a variety of Father's Day cards that can be personalized online. Just upload photos and create a customized message, and Hallmark will address, stamp and mail the printed Father's Day cards. Or use the Hallmark Go Cards app to order a card for Dad anytime, from anywhere. Download the free app for iPhone, then select, personalize and send a paper greeting card with your signature.
Father's Day Gifts
One-of-a-Kind Creations – Hallmark partners with Shutterfly on a new way to create unique gifts for Dad and Grandpa. For Father's Day, there is a die-cut word frame that reads "DAD" and two different Family Tree designs. Special coupon codes are included in each package for use on the Shutterfly website, which allows easy and convenient access to templates that enable consumers to customize the designs with their own digital photos. Shutterfly then prints the photos, cuts them to fit in the frame, and ships them direct-to-home at no extra cost.
Star Wars™ Gifts – The force will be with Dad this Father's Day with the Star Wars™ gift collection, featuring the R2-D2™ Mug with Sound, Laser Sound Button with Light, Darth Vader™ and Yoda™ Bottle Openers with Sound, and more favorites from the galaxy far, far away.
Magic Prints Gifts – Get kids involved in gift-giving in a fun way. Magic Prints provides unique gifts – including shadow box frames, magnet frames and travel tumblers – that can be personalized with a child's handprint or footprint. Using a Crayola® Magic Mitt applicator and special Magic Print paper, the innovative process reveals a colorful pattern or message within their handprint. They're easy for kids to create and Dads will love to receive them.
Pics 'n' Props – Hallmark's new Pics 'n' Props kits make picture-taking more fun and creating personal gifts a snap. Use the included props to take pictures of kids holding the D-A-D letters, then frame the photos in the included wooden frame for a perfect Father's Day gift.
About Hallmark Cards, Inc.
Hallmark makes the world a more caring place by helping people express what's in their hearts and spend time together – a privilege few other companies in the world enjoy. Hallmark greeting cards and other products are found in more than 39,000 retail outlets in the United States, including the network of flagship Hallmark Gold Crown® stores. The brand also reaches people online at Hallmark.com and on television through Hallmark Hall of Fame original movies and cable's top-rated Hallmark Channel. Worldwide, Hallmark offers products in more than 30 languages available in 100 countries. This privately held company is based in Kansas City, Mo., and is led by the third generation of the founding Hall family. Visit http://corporate.hallmark.com for more details.