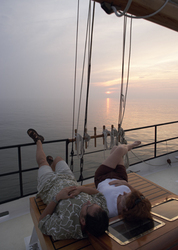 Every dad deserves a day of fun and relaxation.
Richmond, Va. (PRWEB) June 3, 2010
Virginia invites families to fulfill dad's love of sports, fancy cars, good food and fine wine this Father's Day with travel deals, events and attractions that will bring loved ones closer together. Whether it's love for the links or an old-fashioned BBQ, there is something for every dad this June in Virginia. The following is a sampling of what will make for a fun-filled Father's Day for the whole family. For more information, visit http://www.Virginia.org:
Deals
Five Nights of Family Fun!
Fox Hill Bed & Breakfast – Fairfield, VA (Valid through January 1, 2012)
Treat the family to an extended stay at Fox Hill Bed & Breakfast and Cottage Suites. This package includes accommodations for five nights (arriving Sunday and departing Friday) in one of the Cottage Suites. Each Cottage Suite has a fully-equipped kitchen and lots of room to stretch out and relax – and can accommodate up to four people (no charge for children under age 18; over 18, $20/person/night). Package starts at $695, based on double occupancy.
Father's Day Man-cation Weekend
Holladay House Bed and Breakfast – Orange, VA (Valid June 18, 2010 - Sunday, June 20, 2010)
Send the dads on a manly vacation. At this frou-frou free inn, the weekend will be filled with all-guy activities. This man-cation weekend includes: two nights in the John Madison Suite, the Ivy Suite or the Garden Room, two complimentary breakfasts, lessons in meat marinating and meat smoking, beer and bourbon with a marinated and smoked meat dinner, a list of outdoor activities available in the area and DVDs from media library. Package starts at $370.
Cannon Ridge Golfing for Two
Hilton Garden Inn – Fredericksburg, VA (Valid through December 31, 2010)
The Hilton Garden Inn Fredericksburg has teamed up with Fredericksburg's premier golf course, Cannon Ridge Golf Club, to bring a weekend filled with green fun ideal for any duo. This package includes overnight accommodations, full breakfast for two at the Great American Grill and golf for two, including all greens fees, cart fees and range balls. Rates start $159 per night, based on double occupancy.
Events
Annual Father's Day Car Show
Main Street –Warrenton, VA (June 20, 2010)
The perfect outing for the entire family, especially Dad – the Father's Day Car Show includes classic and antique cars, hot rods and motorcycles. Crafters, live music, family games and food vendors on Main and side streets of Historic Old Town Warrenton complete the experience. Visitors can also take a self-guided tour of historical downtown and visit the Old Jail Museum. Entrance is free. For nearby accommodations, stay at The Hampton Inn Warrenton. Rates begin at $101 per night with advanced purchase.
Father's Day Gospel Sing
Breaks Interstate Park – Breaks, VA (June 19-20, 2010)
Take in the stunning natural beauty and the sounds of gospel at this event held at Breaks Interstate Park, one of only two such parks in the nation. Hugging the Virginia/Kentucky boarder, "Breaks" covers 4,600 acres and features the breath-taking "Grand Canyon of the South" - a five-mile gorge that plunges 1,650 feet. Families will love the park's rafting hiking, camping, birding and just enjoying the great outdoors together.
Giddy Up - Father's Day Trail Ride and Campfire Lunch
Reba Farm – Bedford, VA (June 20, 2010)
Get outdoors and celebrate Father's Day with a two-hour trail ride followed with a campfire lunch at the barn. This beautiful farm near the Blue Ridge Parkway region is the ideal backdrop for horseback riding. Gather up the family for a memorable day. Adult admission is $60 with special rates for children 10 years old and yonder and group/family rates for six or more people.
Father's Day BBQ at DelFosse Winery
DelFosse Winery – Faber, VA (June 21, 2010)
What's better than a good barbeque to bring a family together? With music provided by Jan Smith and Jeff Vogelgesang, this BBQ is sure to be an afternoon full of fun. Wines purchased at the event are at a discounted rate. DelFosse Winery is located in a quiet valley at the foot of the Blue Ridge Mountains. Guests can tour the vineyard, which is one of the only terraced vineyards in the state, and taste a unique variety of wines ranging from Merlot to Petit Mensang. Reservations required. Tickets are $25 per person. Stay at Historic Chestnut Log Cabin right on the premises. Rates begin at $225 for the weekend.
Attractions
Virginia Museum of Transportation – Roanoke, VA
Celebrating Roanoke's rich rail heritage, the museum exhibits diesel, electric and steam locomotives including the 611 steam locomotive, a National Mechanical Engineering landmark, and the A-1218, known as "The Mercedes of Steam." The museum houses antique automobiles, trucks, carriages, model train exhibits, African American transportation heritage exhibit, and interpretive, hands-on exhibits. Adult admission is $8. Kids ages 3-11 admission is $3, children under 3 years of age are admitted free of charge.
Journey Through Hallowed Ground – Virginia
If dad enjoys a little history and a beautiful view, then this historic corridor following U.S. Highway 15 south to Charlottesville, Va. is perfect. It is one of the country's newest National Scenic Byways and features some of the most historically significant sites in America. The 180-mile Journey Through Hallowed Ground is a national treasure, loaded with vibrant downtowns, wonderful inns, restaurants, markets and shops. It's alive with breathtaking views, natural landscapes, and a bounty of farms, wineries and local foods for everyone to enjoy.
Outdoor Beauty and Fun – State Parks
Virginia's State Parks are considered the best state parks in America. The natural beauty and diversity of Virginia State Parks feature coastal serenity to mountain-top majesty at 35 parks across the state. Families looking to get back to nature and pay homage to dear old dad head to the parks for outdoor recreation, quality accommodations and diversity in activities – from fishing to hiking to the new geo-cache program.
Liberty Mountain Snowflex Center – Lynchburg, VA
One of Virginia's most unique attractions for outdoor sports enthusiasts is Snowflex. This mountaintop destination in Lynchburg is an all-season outdoor winter sports facility – the first of its kind in the United States. Tubing, snowboarding and skiing is available year-round for young beginners through adult experts. Snowflex is a synthetic surface designed to simulate the slip and grip effects of snow, making winter fun available year-round. Ski for rates starting at $5 per hour, per person; equipment rental is $12.
Love is at the heart of every Virginia vacation. Visit http://www.Virginia.org to start planning a visit. Or call 1-800-VISITVA to request a free, Virginia is for Lovers travel guide.
###