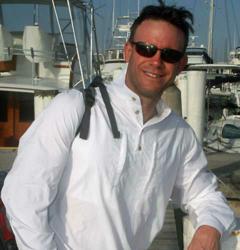 Father's day is June 19th and the perfect time to outfit dad for the upcoming summer season!
San Diego, CA (PRWEB) June 07, 2011
Father's day is June 19th and the perfect time to outfit dad for the upcoming summer season. Skin Cancer and premature aging can be greatly reduced by wearing sun protection products. SunGrubbies.com is an online retailer of sun protective products and has been providing sun protection products for over 14 years. They carry a variety of products that provide the ultimate in sun protection and make the perfect gifts to give dads.
SunGrubbies.com recommends five unique gift ideas that any father would be grateful to receive.

Start at the top with a wide brim hat, essential for fathers who golf or fish. They are out in the sun for hours and hours and sun damage is cumulative. A brim of at least three inches will shade the face and neck and protect the scalp from excessive sun exposure.
Sun sleeves are a unique sun protective invention great for any dad who wants arm protection without wearing long sleeves. Sun sleeves are available in solid colors and fun tattoo and tie dye prints.
Many men complain about getting sunburned on their neck, and a neck drape legionnaire style sun hat is a great solution. SunGrubbies.com offers a portable neck drape that can be worn under any hat and easily stored in a front pocket.
Special sun protection shirts are another great gift idea with multiple uses for dads. Great for traveling, these shirts are lightweight, wrinkle resistant, and have special design features like mesh air vents inder the arm or a brand new feature, built in insect repellant.
A water shirt is perfect for a beach bound dad. Water shirts offer total sun protection without the need for sunscreen. They are available in long and short sleeves and sizes range in size from extra small to 5XL. There are three color choices, black, silver and royal.
The advantage of keeping dad sun safe is that after a fun day outdoors, they have not been over exposed to the sun and night life is a fun thought for everybody.
SunGrubbies.com has products that have been approved and recommended by the Skin Cancer Foundation, the Melanoma International Foundation and the Skin and Cancer Federation of Australia. Every product has been laboratory tested for their sun protective ability and every purchase is 100% guaranteed for satisfaction.
For more information about SunGrubbies.com and their sun protective products, check out their website at http://www.sungrubbies.com. They can be reached at their toll free phone number (888)970-1660. To join the SunGrubbies.com affiliate program, go to http://bit.ly/ifRDrH. Their boutique showroom and hat shop is now open. Please call for showroom and hat shop hours.
###