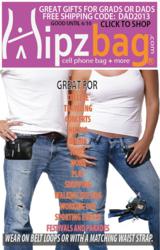 the new hands free
Henderson, NV (PRWEB) May 21, 2013
Looking for the Perfect Father's Day Gifts? The Hipzbag® is a modern, cooler take of the fanny pack popularized in the early 1980. With our need to have our cellphone and gadgets close, this bag holds everything your Dad needs for the office, traveling or hitting a sporting event. With the Hipzbag, his essentials are secure and attached while his hands are free to do much more important things.
Hipzbag attaches to belt loops or a thin waist strap. Hipzbag® features a zippered compartment in the front, perfect for carrying money, keys, iPods, cell phone, etc. No more losing phones, dropping phones or missing those calls.
For Father's Day, Hipzbag is offering Free Shipping with coupon DAD2013. This offer is online at http://www.myhipzbag.com. The square bag is $24.95 and comes in black and dark brown. Put a gift card in the pocket for even more fun on Father's Day.
Dads use the Hipzbag at work, home and play. At work, The Hipzbag allows you to effectively work in the office between meetings or traveling. With the cellphone attached, there is no more worrying about missing those important calls. At home, projects become easier and when out and about having fun, the Hipzbag makes events worry-free with essentials attached and secure.
Hipzbags are great for shopping, traveling, concerts, hiking, biking, college, working out, sporting events and more.
About Hipzbag®
Creator, Kathy Crifasi, computer nerd by trade, created the Hipzbag purely out of necessity. Walking around holding her cellphone, wanting it to be attached to her body—Kathy could not find a solution, so she designed one! Hipzbag® is a product of Hip Shift Corp, a company bringing to market functional fashion products for the everyday woman. Shop the new line on http://www.MyHipzbag.com.