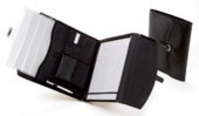 Executive padfolios and expanding files make unique Father's Day gift ideas that are practical and stylish
Melville, NY (PRWEB) June 5, 2008
Office products might not be the first idea that comes to mind when thinking of Father's Day gifts, but Pendaflex is offering unique items that cater to today's fathers - those with mobile lifestyles who are always on the go. This year, shoppers can find executive expanding products at Pendaflex.com, an organization solutions company dedicated to organizing the lives of professionals.
"Executive padfolios and expanding files make unique Father's Day gift ideas that are practical and stylish," said Sharon Mann, Professional Organizer and President of the IHateFilingClub.com. "They're designed with the business professional in mind, so you can actually find a gift for Dad that matches his style and his work needs. Our selection of executive expanding files and padfolios make the ideal Father's Day gift idea for those looking to avoid the usual and give something that is both unexpected and appreciated."
Whether Dad is a business traveler or constantly on the go, Pendaflex has executive series expanding file padfolios to carry his documents, Blackberry, business cards and gear, or executive series 7-pocket expanding files that will protect and keep his important documents organized. Each of these Father's Day gift ideas are stylish and sturdy, so they can go the distance with Dad.
Pendaflex® Executive Series Expanding Products have fashionable buckles with magnetic closures to keep documents protected while on the go. The Expanding File Padfolio is conveniently made to hold business cards, a Palm, Blackberry or calculator as well as having two convenient pen loops. An inside flap secures and protects your documents. The 7-Pocket Expanding File has professional looking black poly dividers that are used with labels, making it easy to identify and view important documents.
About Pendaflex
Pendaflex is one of the world's premier manufacturers of organizational solutions, bringing innovation, efficiency and style to workplace and home settings. Committed to simplifying consumers' lives, Pendaflex produces a broad range of filing and organizational products, as well as provides solutions and resources through our website Pendaflex.com and PendaflexLearningCenter.com, . Located in Melville, NY, Pendaflex is the principal U.S. brand of Esselte Corporation, a $1.2 billion office products company with subsidiaries in 28 countries and distribution in more than 120 countries.
###