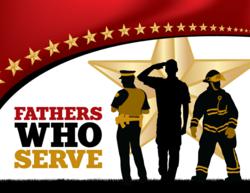 Seattle, WA (PRWEB) June 14, 2013
The Fathers Who Serve campaign is honoring dads who are first responders or serve in the armed forces. The program is using Father's Day as a springboard to acknowledge, for more than just a day, the sacrifices these fathers make and the examples they set. Many of these dads miss significant family celebrations, like Father's Day, because of the demands of their roles.
Fathers Who Serve is collaborating with recording artist Bryan Duncan to make it easier for people to celebrate these fathers by giving them each a free copy of Duncan's Every Father Is A Son at FathersWhoServe.org. Duncan's father/son duet was released to radio recently and he is doing interviews with radio and other media to promote the Fathers Who Serve campaign throughout June.
The song, a poignant look at a relationship between a father and his child, features Duncan's youngest son, Devin, sharing the lead vocals. Devin approached his father about recording the song together for their family.
"My grandfather was in declining health and I thought the song would be meaningful for our family," says Devin Duncan. "I wasn't thinking about recording the song with my dad for an album."
"My father's death was kind of a wake up call," says Bryan Duncan, "that reminder that we all get, when someone close to us dies, that our time here is short."
"One of the themes in the song is remembering how precious our time together is. I wanted to share the experience of recording the song with my son and share the finished version with fathers and their children everywhere."
Duncan is donating Every Father Is A Son to Fathers Who Serve campaign and to the parallel Dads Who Serve campaign, which run throughout June.
Dads Who Serve honors and encourage dads - teachers, coaches, volunteers and others - who serve children directly. These fathers invest in children by giving their talents, time and attention. Anyone can give a dad who serves a free copy of Every Father Is A Son at DadsWhoServe.org.
Duncan's generosity isn't limited to donating his song. He's also giving away free downloads of his entire Conversations album to people who use Every Father Is A Son to create a YouTube or Vimeo video honoring their dads. Details are available at Duncan's YouTube channel.
Bryan and Devin aren't the only dad and son on Every Father Is A Son. Jason Palmer plays drums on the song and his son, Isaac, plays the military-style snare that opens and closes the track.
"When the opportunity to play on Bryan's Conversations album came up it was a dream come true for me," says Jason Palmer. But I never imagined being able to share the experience with my son.
"Bryan knows Isaac is an incredible snare drummer, and the song is about things a father and his son share, so Bryan suggested we include Isaac on the song."