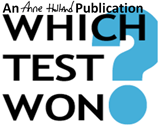 "This test reaffirms that sometimes a multistep form will trump a single-step form in terms of converting visitors."
Cleveland, OH (PRWEB) December 12, 2012
Fathom is excited to be featured in the 300th testing case study on the website "WhichTestWon," a milestone for the publication. Its test was chosen from a field of 20 to be published at 11:00 a.m. EST to mark the occasion on 12/12/12. The goal of the test featured in this case study was to increase free trial registrations on a website landing page for Fathom's client, IXACT Contact. After the Fathom treatment, visitors were ultimately 30% more likely to register for the free trial.
The Fathom treatment consisted of two variations of the landing page placed against a control. The first variation involved eliminating two form fields and moving some existing copy about the trial details into the sub-header, along with moving "trust mark" icons to the top of the page from the bottom. The second variation incorporated all the changes from the first variation with one major difference: A 3-step form submission process. Fathom tracked visitors and conversions in each of the variations and the control simultaneously for a three-month period. The final results indicated visitors who saw "treatment B" were 30% more likely to register for the free trial vs. the control, while "treatment A" visitors were 23% more likely.
"Given the length of the form, I was surprised that a multistep form would show a boost in conversion over a single-step form," said Mike Perla, Fathom Director of Conversion Optimization & Creative. "However, this test reaffirms that sometimes a multistep form will trump a single-step form in terms of converting visitors. Contrary to popular belief, there's no universal guideline whether a form or cart should be one page or multiple pages. It's something you have to test, and that's why Fathom recommends it be tested."
Conversion is an essential element of any measurable, results-based digital marketing campaign. Without the proper attention to persuasive elements (e.g. via user testing), websites are likely leaving would-be conversions to competitors.
About WhichTestWon
WhichTestWon is the #1 weekly publication for conversion optimization professionals, including direct response marketers, Web analytics specialists and usability experts. The site features the world's biggest library of A/B and multivariate testing case studies, with results data for 300 e-commerce, lead- generation and visitor engagement tests. WhichTestWon also produces the annual Web Testing Awards every January and the Email Testing Awards every June, as well as live events and training workshops for conversion optimization executives.
About Fathom
We believe that all investments in marketing and advertising should be held highly accountable. Fathom is a full-service digital marketing and analytics firm that delivers profitable revenue for its clients across multiple digital touch points. Our results-oriented approach aligns well with mid-cap and large enterprises alike. Our proven track record of success across multiple industries—including manufacturing, technology, education, healthcare and sports—allows us to back up our promise to deliver "results that matter." Companies that want simple answers to the digital world's complex marketing questions choose Fathom for the assurance that the return on their advertising budgets will be highly profitable.