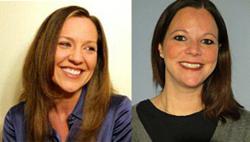 Both Sara and Nina bring a deep level of digital marketing expertise that will help our clients continue to grow.
Columbus, OH (PRWEB) January 21, 2013
Key to Fathom's growth in 2013 will be the potential to deepen its specialization in several industries, namely healthcare, technology and education. New account managers Sara Smith and Nina Cummins are central to the company achieving this goal. Together they bring significant digital marketing expertise in data analysis, content strategy, media planning, SEO and account management.
Smith brings experience in the healthcare field, having previously worked with Merck Vaccines and Bayer Women's Health. She has provided digital budget planning, strategic content development, SEO, and Web marketing analytics to several Fortune 500 organizations, helping them evolve into data-driven and customer-centric brands.
Cummins has proved herself capable in the tech industry based on her work with INCISENT Technologies, where she worked initially as a data analyst before moving into sales development. She brings years of experience in customer relations, media planning, online sales and new business development. She has used these skills to also improve results for healthcare, retail, automotive and education clients.
"Both Sara and Nina bring a deep level of digital marketing expertise that will help our clients continue to grow," said Bill Balderaz, President of Fathom Columbus. "They each represent the caliber of team member we are proud to have as part of the Fathom family."
"I'm very excited to join Fathom, one of the fastest-growing digital agencies in the country, and to continue to grow within the industry," said Cummins. Smith added: "I hope to continue the success of the rest of the Fathom team by supporting clients with innovative ideas and results-driven strategies."
In other Fathom healthcare-related news, the company has introduced a fully customizable email newsletter service, Healthy eNews, that allows health systems to communicate with patients, employees and general audiences. The content marketing program's goal is deliver the greatest possible return from hospital email databases by incorporating high deliverability, deep analytics, cutting-edge technologies and a team of healthcare marketers with conversion expertise.
About Fathom
We believe that all investments in marketing and advertising should be held highly accountable. Fathom is a full-service digital marketing and analytics firm that delivers profitable revenue for its clients across multiple digital touch points. Our results-oriented approach aligns well with mid-cap and large enterprises alike. Our proven track record of success across multiple industries—including manufacturing, technology, education, healthcare and sports—allows us to back up our promise to deliver "results that matter." Companies that want simple answers to the digital world's complex marketing questions choose Fathom for the assurance that the return on their advertising budgets will be highly profitable.