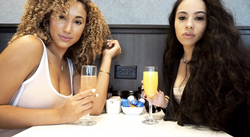 "I am very excited to be able to interact with other leaders in the industry, as well as connect with the people that have been supporting me through my career journey, my subscribers!" Fátima Francesa
HOUSTON (PRWEB) August 02, 2019
HR Maximizer Inc announced today that it will partner with Fátima Francesa and The Nurse Nook for a nurse meetup event called "Great Coffee and Nurse Talk!" exclusively for registered nurses and aspiring registered nurses from 5-7pm on August 9, 2019. (https://www.partners.hrmaximizer.com/youtuber-coffee-meet-up-pagewq6j8uzr)
We are excited to host both Fátima Francesa and Alexis Nicole (The Nurse Nook) brands for this event, they are top ranked among nurse YouTubers and nurse Instagram Personalities with over 400k followers/subscribers combined," says Rollis Fontenot III of HR Maximizer, Inc.
YouTube and Instagram Nurse Personalities:

Fátima Francesa RN SNP is a Nurse Entrepreneur and YouTube Personality. Francesa has acquired over 130,000 followers/subscribers combined on Instagram and Facebook, and her videos have been viewed over 6.6 million times on YouTube YouTube (https://www.youtube.com/user/fatimafrancesa). Francesa says she is "very excited to be able to interact with other leaders in the industry, as well as connect with the people that have been supporting me through my career journey, my subscribers!"
Alexis Nicole BSN RN, better known for her The Nurse Nook YouTube Channel (https://www.youtube.com/channel/UCY0EH68-wnTJ_xlDVWX15Pw/featured) with over 270k followers/subscribers on Instagram and YouTube. The Nurse Nook videos have been viewed over eight million times in less than three years.
This event will allow their followers, as well as those who aren't familiar with them, to learn more about their journey and offer tips and advice on career growth and life. The cost of the event will be $12.00 and will include Coffee and other beverages along with light snacks. There is limited seating, so those interested are encouraged to register right away using the link above.
HHHRA | HR Maximizer Conference Update
The Nurse Meetup event is in addition to the two day HHHRA | HR Maximizer conference for recruiting and retaining more clinicians and providers involving Healthcare Leaders and Healthcare HR Professionals on August 8th and 9th in Downtown Houston. For more information on that conference, visit: https://www.partners.hrmaximizer.com/optin29272409
Conference Topics
Key Challenges to Provider/Clinical Staff Growth in Healthcare
How to Attract More Provider/Clinical Applicants to Your Job Postings
Trends in Candidate Attraction: Recruitment Videos
Using A.I. Chatbots to Enhance Recruitment
How Associations can Enhance the Value of your HR Department
Becoming Known as a Top Tier Employer
Meet Generations Y & Z: The newest members of your team
Strategies to Keep Staff Engaged During Organizational Changes
How to Encourage a Diverse and Inclusive Culture in the Department
Boosting Provider | Clinician Wellness
Engaging Executive Leadership in HR Initiatives by Measuring ROI
How to Combat Provider | Clinician Burnout
"Check-ins" - Moving Performance Reviews From Static to Strategic
HR Maximizer also announced today that Conexus Medstaff (https://www.conexusmedstaff.com) will be the 2nd Premium Partner for its joint conference with the Houston Healthcare HR Association (HHHRA). Healthcare providers nationwide are turning to Conexus Medstaff for qualified international registered nurses. They are a nurse recruitment partner to over 200 facilities in 30 states, offering full sponsorship to overseas nurses to enable them to work in US healthcare facilities.
Conference Partners
In addition to having 30 presenters and panelists at the conference, HHHRA and HR Maximizer welcomes XOR Inc. (https://xor.ai) as the exclusive Platinum Partner for this year's conference.
StayWell (https://www.staywell.com) and Conexus Medstaff are Premium Partners, along with several other curated exhibitors at the conference. For a list of all the partners, exhibitors and logos, visit the Conference Page at HHHRA.org (https://hhhra.org) or HRMaximizer.com