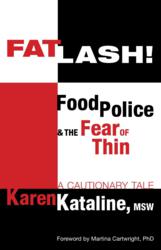 Without boundaries and respect for their choices, people may submit to dietary controls now but develop a FATLASH reaction later.
Denver, CO (PRWEB) December 11, 2012
When author Karen Kataline heard about Dara-Lynn Weiss who put her seven-year-old daughter on a diet and then detailed it in an article for Vogue magazine, Kataline didn't just have an opinion as a mental health professional. She had an opinion borne of personal experience.
Kataline's new book, FATLASH! Food Police & the Fear of Thin --A Cautionary Tale vividly illustrates the impact of her early years in child beauty pageants and severely restrictive diets imposed by her "stage mother on steroids."
Like Dara-Lynn Weiss' daughter Bea, Kataline's mother was obsessed with her weight and appearance. At seven, her mother put her on a 500 calorie a day diet. "I didn't understand what a calorie was or why I wasn't allowed to eat like everyone else. It took several more decades before discovered how I really felt about it and about being put on display in child beauty pageants.
Kataline explains how food and weight can become a battleground between mother and daughter on which important developmental issues of separation and individuation are fought. At sixteen, she weighed 285 pounds. "Unconsciously, it was the best way to get back at my mother. It also guaranteed that there would never be another beauty pageant." Kataline said.
FATLASH is what Kataline calls the backlash that often results when self-appointed food police attempt to control what other people eat in order to "make" them lose weight. "The person on the receiving end becomes either dependent on the control or rebels against it. Either way, they lose a sense of 'body ownership' and the ability to self-regulate. This is a particularly fertile breeding ground for eating disorders and a life-long maladaptive relationship with food."
Bea Weiss is only the latest high profile example of a child with a diet and appearance-obsessed parent. Recently, Chaz Bono revealed that he had been put on diets as a child despite the fact that as the American public knows, Chastity Bono wasn't overweight. Kataline isn't surprised that Bono now struggles with a significant weight problem. She further asserts that his current "diet on display" which mirrors the way he was displayed as a child, isn't likely to yield lasting results.
Kataline has teamed up with Martina Cartwright, Phd, RD who wrote the foreword for FATLASH! and has coined the term "Princess by Proxy." Dr. Cartwright concurs that parents who put their children on diets are often projecting their own problems with weight and body image onto their children. Dara Lynn Weiss is just such an example, who admits in the Vogue article that she spent the past three decades hating how her body looked and "devoting an inordinate amount of time trying to change it."
Kataline is a professional speaker and advocate who encourages parents and lawmakers alike to learn about healthy boundaries so that children can develop a sense of body ownership and body integrity. Without such boundaries, they may submit to dietary controls now, but are likely to develop a FATLASH reaction later.
FATLASH! Food Police & the Fear of Thin -A Cautionary Tale is available at a holiday discount now on Amazon. Also available at Barnes and Noble and wherever books are sold.
Karen Kataline, MSW, received her master's degree from Columbia University and has practiced in a variety of non-profit and corporate settings. She has taught communications and public speaking at the New School for Social Research, Parsons School of Design in New York, New Jersey's Montclair State College among others. Fatlash! is her first book.
Martina Cartwright, Ph.D, RD., wrote the Foreword for Fatlash! She is a registered dietitian with a Ph.D. in Nutritional Science and Biomolecular Chemistry from the University of Wisconsin-Madison. She has written extensively about child pageants and eating disorders and is credited with coining the term, "Princess by Proxy."