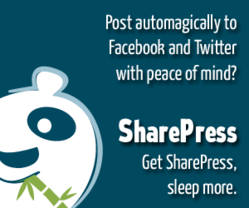 Engaging with customers allows us to gain insight on how our product is being used.
Winchester, Virginia (PRWEB) July 31, 2012
Fat Panda, a software development company which focuses on WordPress plugins, originally launched SharePress in late 2011. SharePress 3.0 will soon be released and broaden users' reach, opening up LinkedIn to the original tool, and providing greater control over Twitter messaging. SharePress facilitates automatic and scheduled distribution of website content to Facebook and Twitter while maintaining author authenticity.
Fat Panda entices users with a no contract approach and a reasonable cost for the plugin. SharePress is $24 for a single site licensing fee or a developer can pay a one-time fee of $120 for use on as many sites as they wish. Unlimited email technical support is available for all licensed users. Users can demo SharePress for free (fatpandadev.com/sharepress) and upgrade to the pro version for unlimited email technical support.
Although other services can deliver information in a similar fashion, they break the rules of engagement according to Aaron Collegeman, founder of Fat Panda, "Engaging with customers allows us to gain insight on how our product is being used. Initially, our efforts were inspired by recognizing the need for a brand to simply take a statement or story safely across any platform used on the web. Now we recognize the tool builds authentic conversation and allows users to engage freely with their audience in a real time fashion. We believe in a world of web users that actually engages directly with each other-not through a third party."
Fat Panda intends to launch a second product line later this year, allowing users to measure and improve their content and social media strategies. Staying true to open source programming, Fat Panda creates products that allow users to read and modify the code, encouraging them to tailor the software to meet their specific needs. Like WordPress, they intend to operate with an open source community which makes their products safer and more stable in the long run.
Aaron Collegeman launched Fat Panda in 2011 to honor the release of their first product SharePress. Striving to lead the world of software development, the team focuses on customer relationships, treating every user like they have insight to offer the group. Fat Panda builds unique solutions for wordpress plugins and envisions a new evolution of wordpress themes which shows users the potential of the open source platform. Operating in Winchester, Virginia, Aaron Collegeman, founder and lead developer, works side by side with partner Joey Blake, a seasoned and spicy developer who takes on challenges with glee. Follow fatpandadev.com/sharepress or like them on facebook/Fat Pandadev