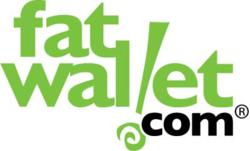 Guys Week will help online shoppers save money upgrading sports gear, outdoor equipment and tools they use to make home and auto repairs, or just go faster and farther.
Beloit, Wisconsin (PRWEB) May 14, 2012
FatWallet, the preferred online shopping resource for millions of savvy consumers, presents Guys Week, offering online bargain hunters a convenient one-stop to find discounts and early Father's Day sales on the hottest tools and outdoor gear men want this year. The promotion, from May 14-21, features coupons and deals on everything from sports and outdoor equipment to power tools, tires and garage accessories. FatWallet lists thousands of manly bargains from hundreds of popular retail stores, like Radio Shack, Jos A Bank, Hanes and Advance Auto, that offer shoppers the added savings of cash back rewards for FatWallet members.
Stores featuring men-related seasonal deals and coupon codes in May 2011 experienced an average 41% increase in sales from FatWallet shoppers compared to May 2010. "This is the time of year guys are planning to repair things and to have more fun outdoors," said FatWallet spokeperson, Brent Shelton. "Guys Week will help online shoppers save money upgrading sports gear, outdoor equipment and tools they use to make home and auto repairs, or just go faster and farther."
Shoppers will also find the web's best tech deals and mens apparel discounts shared in the FatWallet Hot Deals forum and featured daily in Today's Best Deals. These two popular FatWallet destinations feature hundreds of daily added discounts on smartphones, laptops, tablets, hunting and fishing gear and more. "This site is like the consumer help and information center. There are so many members willing to offer smart advice, the staff answers all questions very quick and there's a good list of deals that are hard to find elsewhere," states FatWallet member Tom Duvall. "All that and I get cash back."
About FatWallet: As the preferred online shopping resource for millions of savvy consumers and home of the best Black Friday and Cyber Monday deals, FatWallet.com works closely with hundreds of retailers like HP, Newegg, Walmart and Amazon to publish thousands of special offers, discounts, coupon codes and Cash Back rewards to its members. The much celebrated FatWallet forums represent the pulse of an evolving online marketplace where smart consumers gather to share and learn. Voted "One of the 50 Best Small and Medium Companies to Work for in America" by Great Places To Work®, FatWallet ranks as one of the top 600 internet properties in the nation. (Quantcast) http://www.fatwallet.com