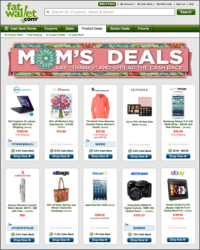 Gift cards are always the easiest last minute choice and a gift most women actually prefer (according to numerous national surveys).
Beloit, Wisconsin (PRWEB) May 07, 2013
FatWallet.com offers online shoppers the shortest path to timely savings on hundreds items and offers for Mother's Day, including these five tips to find the biggest savings on last minute gifts:
1. Gift cards are always the easiest last minute choice and a gift most women actually prefer (according to numerous national surveys). More than 40 stores are currently offering discounts for Mother's Day on FatWallet, including Dell egift cards, Starbucks cards and itunes gift cards with most also offering added savings of cash back when ordering online gift cards.
2. Flowers and gift baskets are traditional favorites when you're in a pinch. This is the best time of year to find up to 50% off flower delivery from online florists and flower shops across the country. Shop through FatWallet and earn up to 13% in cash back on flowers, baskets and gourmet chocolates.
3. Magazines are a great gift if your on a budget and out of time to have anything shipped by Sunday. Specialty sites like Magazines Unlimited and Magazines.com will also offer cash back when shopping through FatWallet. Dozens of women focused subscriptions are available up to 85% off (or even free) including Shape, Fitness, Better Homes & Gardens and Parent magazine.
4. Restaurant and entertainment gift certificates are always a good gift. If you live in an urban area, the best deal is with Restaurant.com ($25 gift certificates to local restaurants for $5, plus $10% cash back). Shoppers can also find quick savings on movie tickets, fast food, chain restaurants and family activities gift cards on FatWallet's restaurants and entertainment category page.
5. Beauty and spa daily deals make a perfect Mother's Day present that also support local merchants in your community. FatWallet Local Deals provides a one-stop resource where shoppers can browse all the available offers from Living Social, Gilt City and other top daily deal sites in more than 150 cities and regions, including 50% or more off facials, massages, spas, salons and much more.
Last Minute shoppers can also find some useful gift guides in the FatWallet blog to help them find all the stores offering cash back, free shipping, free in-store pickup and savings on greeting cards, party supplies and other home necessities for Mother's Day celebrations.
_____________
About FatWallet: As the preferred online shopping resource for millions of smart consumers looking to save, FatWallet.com works closely with 1,500+ retailers like HP, Newegg, Kohl's and 6PM to publish special offers, discounts, coupon codes and Cash Back rewards to its members. The much celebrated FatWallet forums represent the pulse of an evolving online marketplace where smart consumers gather to share and learn. FatWallet is owned by Performance Marketing Brands (PMB) who owns and operates the world's most rewarding shopping programs. Through its family of distinct websites and reward programs, Ebates.com, FatWallet.com and AnyCoupons.com, PMB users can get a great deal and earn money back every time they shop. PMB shoppers are expected to spend over $2 billion through PMB's websites and shopping programs.