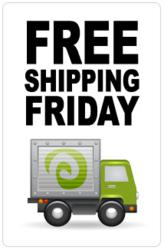 Beloit, Wisconsin (PRWEB) December 15, 2011
FatWallet, the preferred online resource for millions of savvy shoppers, celebrates Free Shipping Day by featuring the best season ending store offers in the "Procrastinator's Guide to Stores with Free Shipping" (many with no minimum purchase). The competition for last-minute holiday gift buyers has spurred hundreds of stores to participate in offering free shipping deals and coupons, which are conveniently featured throughout this comprehensive FatWallet guide.
The guide separates "no minimum" from "minimum" purchase offers, helping shoppers quickly compare more than 50 featured stores' Free Shipping Day deals including Apple, Staples and Old Navy. Shoppers can also find each store's shipping deadlines and additional coupon details. Savvy FatWallet members will take advantage of additional savings with available cash back rewards from FatWallet.
FatWallet calls out free shipping on thousands of deals and coupons from hundreds of stores in all areas of the site including a Free Shipping Deals promotion, the popular Hot Deals forum and a gift ideas daily update in the FatWallet Blog.
About FatWallet: As the preferred online shopping resource for millions of savvy consumers, FatWallet.com works closely with hundreds of retailers like HP, Newegg, Walmart and Amazon to publish thousands of special offers, discounts, coupon codes and Cash Back rewards to its members. The much celebrated FatWallet forums represent the pulse of an evolving online marketplace where smart consumers gather to share and learn. Voted "One of the 50 Best Small and Medium Companies to Work for in America" by Great Places To Work®, FatWallet ranks as one of the top 600 internet properties in the nation. (Quantcast)
###