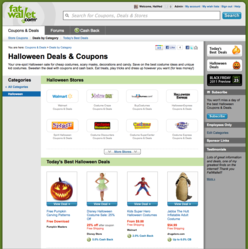 The Halloween store roundup is a useful guide for where to shop online for the hottest costumes and discounts in 2011.
Beloit, Wisconsin (PRWEB) October 04, 2011
FatWallet.com dresses the part as a Halloween resource to help consumers save money through some of the seasons best deals and coupons. Halloween 2010 saw almost $6 billion in total spending for the holiday (National Retail Federation) and 2011 is expected to exceed those spending numbers. FatWallet's Halloween Deals features more than a dozen leading online Halloween costume retailers offering deep discounts and cash back rewards. To help round out savings on seasonal essentials, the promotion features many other popular retailers such as Walmart, Drugstore.com and Disney Store, offering access to hundreds of additional coupons and deals on Halloween candy, decorations and greeting cards.
The FatWallet blog is featuring a convenient Halloween retailer roundup to guide party seekers to 2011's hottest costume deals and trends where Green Lantern, Captain America, Angry Birds, Transformers and Snow White top the list of favorites. The roundup lists information for dozens of stores partnered with FatWallet that are offering bargains on costumes, makeup and accessories for kids, teens, adults, couples, groups and pets alike, including discounts with special coupon codes, free shipping and cash back rewards.
About FatWallet:
As the preferred online shopping resource for millions of savvy consumers, FatWallet.com works closely with hundreds of retailers like HP, Newegg, Walmart and Amazon to publish thousands of special offers, discounts, coupon codes and Cash Back rewards to its members. The much celebrated FatWallet forums represent the pulse of an evolving online marketplace where smart consumers gather to share and learn. Voted "One of the 50 Best Small and Medium Companies to Work for in America" by Great Places To Work®, FatWallet ranks as one of the top 600 internet properties in the nation. (Quantcast)
###