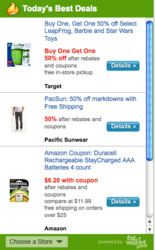 Our members have always been very gracious with their endorsements and now they can earn additional rewards for their advocacy.
Beloit, Wisconsin (PRWEB) October 15, 2012
FatWallet, the preferred online resource for millions of smart shoppers, announced today a new referral program that offers members the opportunity to earn additional money by referring others to sign up. With the new referral program, FatWallet members can take advantage of the new "tell-a-friend" feature and invite friends, family and their network acquaintances to join FatWallet. Each sign up that makes their first purchase ($25 minimum) earns them a $5 referral bonus.
"Referred customers have long been a strong component of our business and we are very excited about the value this adds to our members," stated Ryan Washatka, President and COO of FatWallet. "Our members have always been very gracious with their endorsements and now they can earn additional rewards for their advocacy."
FatWallet also introduces another robust tool to boost referrals via bloggers and web sites with a customizable Deal Widget. The deal widget can be set to display the latest offers from hundreds of top retailers. Offers can be set to feed from the FatWallet Hot Deals forum (by store or category), Best Deals (daily staff picks), or the most popular online coupons (by store or category). The widget displays product images, title, price, store name and can be customized for color, size and number of scrollable deals.
"Our new FatWallet Deal Widget is a great way for bloggers to display targeted deals that offer great savings advantages to readers and smarter referral earnings for their business," adds Washatka. "It's a win-win for both our referral program partners and their subscribers."
_____________
About FatWallet: As the preferred online shopping resource for millions of smart consumers and home of the best Black Friday deals, FatWallet.com works closely with 1,500+ retailers like HP, Newegg, Walmart and Amazon to publish special offers, discounts, coupon codes and Cash Back rewards to its members. The much celebrated FatWallet forums represent the pulse of an evolving online marketplace where smart consumers gather to share and learn. FatWallet is owned by Performance Marketing Brands (PMB) who owns and operates the world's most rewarding shopping programs. Through its family of distinct websites and reward programs, Ebates.com, FatWallet.com and AnyCoupons.com, PMB users can get a great deal and earn money back every time they shop. PMB shoppers are expected to spend over $1.5 billion through PMB's websites and shopping programs. To learn more, visit http://www.performancemarketingbrands.com.