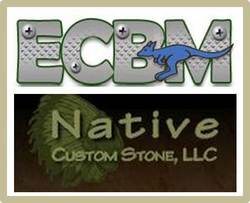 this agreement with ECMB is really significant for Native Custom Stone. Having ECMB as a key distributor will help us increase our presence in a market that is very important to us. We are looking forward to a long and successful relationship
Dawsonville, GA (PRWEB) June 28, 2010
Native Custom Stone which serves the construction industry in North America with superior manufactured stone, veneer stone and synthetic stone products has been selected by Emerald Coast Building Materials (ECMB) as their supplier of manufactured stone veneer products. ECMB is a division of Smoky Mountain Materials, Inc. headquartered in Knoxville, Tennessee. ECMB started operations in the Florida Panhandle eight years ago and they currently have facilities in Pensacola and Panama City, Florida and Mobile, Alabama. They serve customers on the Gulf Coast from Tallahassee, Florida to Gulfport, Mississippi. This agreement has opened a significant Gulf Coast market to Native Custom Stone's cultured stone products.
The agreement will provide ECMB with a line of superior faux stone products- so realistic in appearance that they look and feel like real stone. Native Custom Stone products are lighter weight than real stone and cost less than traditional stone veneer. Because of their light weight Native Custom Stone products do not require the structural footings used for heavier brick and stone veneers. The product's light weight reduces construction costs and enables faux stone installation in locations where traditional products could not be installed. The wide variety of stone designs and colors fit with architectural designs of coastal Florida, Alabama and Mississippi and the product warranty supplied by Native Custom Stone is a big plus for vendors and customers.
Native Custom Stone's manufacturing facility is located at its headquarters in Dawsonville, GA. This convenient location will provide ECMB with the ability to get their large faux stone orders produced to order and shipped within seven days, while smaller orders can be shipped immediately from existing stock. Native Custom Stone can ship both large and small orders with a relatively short transit time due to the close proximity of ECMB's Gulf Coast locations.
Billy Bennett President of Native Custom Stone discussed the new vendor agreement with ECMB and the many benefits to both businesses. "We are really pleased to have a vendor agreement with a Class-A partner like Emerald Coast Building Materials. We wanted to increase our market share along the Florida, Alabama and Mississippi Gulf Coast and this agreement with ECMB is really significant for Native Custom Stone. Having ECMB as a key distributor will help us increase our presence in a market that is very important to us. We are looking forward to a long and successful relationship."
Bill Batting, General Manager of ECMB, said, "Our mission at ECMB is to provide our customers with quality materials they can trust, combined with reliable service. Having Native Custom Stone as our supplier of manufactured stone veneer products fits right into our mission at ECMB. Native Custom Stone is known throughout the construction industry as a supplier of the highest quality faux stone products and they can fulfill orders quickly to help us provide outstanding service to our customers. This agreement is great for both companies."
Native Custom Stone has been serving residential and commercial construction markets for over 20 years and is located at: 236 Hightower Parkway, Dawsonville, GA 30534, USA. Phone: 888-823-0745 / 706-216-5545.
###