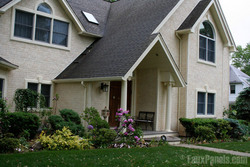 Deer Park, NY (PRWEB) July 27, 2009
With the current bad economy, many consumers feel that they don't have the money to remodel their homes. However, one website, FauxPanels.com, is ensuring that consumers can remodel homes even with the bad economy by providing faux panels. These fake stone panels are reasonably priced to offer a home remodel that is economical while still giving a realistic stone finish to the home.
Spending money on a real stone finish for the outside or inside of a home is expensive these days. Not only do consumers have to purchase the stone needed to have the work done, but they will end up paying for a professional mason to do the job for them. With faux panels and siding, you get the same look for just a fraction of the cost.
Today's new faux panels are not only a reasonably priced answer to remodeling during a bad economy, but they are also very durable. The latest advances in technology have been perfected and used to come up with a material known as high density polyurethane, which makes these panels virtually indestructible. These stone veneer panels are not affected by water either due to the closed cell structure of the polyurethane, which makes it great for outdoor use or even indoor rooms that may get wet, such as the bathroom or the kitchen. For consumers looking for value for their money in this tight economy, the idea of durability makes these panels even more attractive when dollars are tight.
The realistic look that they provide is due to the fact that the panels are actually molded from actual brick, stone, and rock. Consumers can install these panels and it is difficult to tell they are not real stone. The panels are designed to interlock with each other as well, which means the design will look seamless when it is completed.
More and more consumers are trying to do home projects on their own, with the cost of hiring someone unaffordable. With faux panels, today's consumers are able to do the work themselves, saving even more money that can be used elsewhere. They are very easy to cut and they are easy to work with, making it easy for do-it-yourselfers.
Whether consumers today want to add a stone, brick, or rock look to their home exteriors, interior rooms, patios, to office buildings, or other structures, with faux panels they can do so at a reasonable price. With many different styles and options available, FauxPanels.com offers not only affordable pricing, but excellent choices to consumers looking to improve their home at a low cost.
To find out more about faux panels and how you can use them to remodel during a recession, visit http://www.fauxpanels.com for more information.
About Faux Panels:
Faux Panels is one part of a family business that has been around since 1972. They have experience in the industry and are leading the faux building product industry today. The company takes pride in offering excellent customer service, high quality products, and service that is personalized to the needs of every client.
Contact:
Company: FauxPanels.com
Address: 517-G Acorn Street
Deer Park, NY 11729
Phone: 1-800-651-4223
Website: http://www.fauxpanels.com
Email: info (at) fauxpanels (dot) com
###