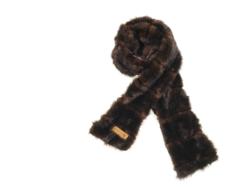 CovFurs are faux fur boot slipcover accessories and scarves made and assembled in the USA"
Los Angeles, CA (PRWEB) December 14, 2011
Upscale faux fur accessory company Covfurs.com, adds a line of warm, stylish, and affordable faux fur scarves to its online store, just in time for winter.
Made with the highest quality faux fur materials and produced in the United States, consumers can wrap themselves in affordable fashion this winter season with Covfurs.com newest collection of faux fur scarves. Add a luxury look to any coat or sweater with one of these faux fur scarves this season.
Brighten up winter's grayest days with a solid print or pull together any outfit with any animal print faux fur scarf. Scarves are currently available in the eleven different colors and animal prints listed below.
The solids come in the following styles: Black Beaver, Brown Beaver and Off White Mink.
The patterns come in the following styles: Chinchilla, Brown Chinchilla, Blue Leopard, Tan Leopard, Pink Leopard, Wild Leopard, Tan Zebra and Zebra.
Consumers can conquer the cold weather this season and remain toasty while staying fashionable, on trend, and on budget with these faux fur scarves. With the affordable price tag of $39.99, these soft-textured, highly sought after, and perfectly color-balanced scarves will add sophistication and glamour to any ensemble – whether it is a day at the office or a night on the town. To view the entire scarf collection and learn more about all of the products CovFurs offers, please visit CovFurs.com.
About Us:
Launched in November 2011, CovFurs are the original faux fur boot slipcover accessories and scarves made and assembled in the USA. Developed and manufactured in Southern California, only the highest quality materials are used to replicate expensive real-looking fur. For more information about all of our products and to sign up for our newsletter, please go to CovFurs.com. Be sure to visit Facebook.com/CovFurs or join the conversation on Twitter.com.
###