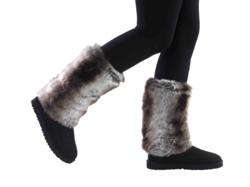 Covfurs are faux-fur boot slipcovers, made in the United States
Los Angeles, California (PRWEB) November 17, 2011
Designed for the ultimate in warmth and comfort, Covfurs are faux-fur boot slipcovers, which allow consumers to customize their own personal look by utilizing more than twelve colors and patterns. Made in the United States, Covfurs' solid-color slipcovers are $29.99, while exotic print slipcovers are $39.99. A cost-conscious consumer can purchase just a few pairs of Covfurs, and achieve the same look seen on fashion runways throughout the world in fall and winter 2011 collections for a mere fraction of the cost.
Covfurs' boot slipcovers are crafted with only the finest faux-fur materials. As recently seen lining sweater collars, boots, hats, and cuffs in the collections of several major fashion designers, faux-fur is one of this season's hottest fashion trends. Covfurs' new boot covers can be worn in several ways – covering an entire calf-length boot, at the mid-calf, or low to the ground for an ultra-chic slouchy look. Covfurs can be mixed and matched to dress up or down any outfit. These luxurious, high-quality, stylish accessories will help fashion-conscious consumers stay on budget, making it this year's perfect gift.
Covfurs are an affordable, fashionable, and fun way to showcase your personal style. For more information, and to see Covfurs' spectacular product line, Covfurs invites you to visit its brand new website, http://www.Covfurs.com.
About CovFurs:
Launched in November 2011, CovFurs are the original faux fur boot slipcover accessories made and assembled in the USA. Envisioned and manufactured in Southern California, only the highest quality acrylics are used to replicate expensive real-looking fur. CovFurs are an affordable alternative for fashionistas and boot lovers of every demographic. Customize and style your boots to give any outfit that rich remarkable look. For more information about all of our products, please go to CovFurs.com. Be sure to visit our Facebook.com/covfurs page and join the conversation on Twitter.com/fauxfurbootcovs.
###