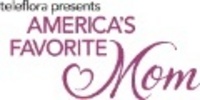 Moms are at the core of the American family
LOS ANGELES (PRWEB) January 24, 2008
Proud children and adults across the country can visit AmericasFavoriteMom.com to nominate their mothers for this prestigious award. Teleflora and NBC are looking for inspirational mothers from all walks of life: single moms, working moms, stay-at-home moms, unconventional moms and military moms who may be serving overseas or holding down the home front for those who are serving our country. Visitors to the website can upload videos, their favorite photos of mom and essay testimonials in support of their favorite mom. As part of the interactive experience, friends and families can vote for their favorite nominee and help their favorite mom win exclusive online prizes. Over 20,000 of Teleflora's member florists will join the effort by sponsoring "America's Favorite Mom" competitions in their local communities and reaching out to their PTAs, houses of worship, and other local organizations to collect nominations.
Once the nominations are collected, the top 15 nominees will appear on NBC's highly-rated "Today Show" throughout the week before the primetime television special, and viewers will have the chance to vote for their favorite mom at the end of each show. The winning mom from each day of the week will be featured on "Teleflora presents America's Favorite Mom," a grand finale, one-hour primetime NBC television special airing on Mother's Day, May 11, 2008 at 7 p.m. EDT. The show will include guest appearances from a number of celebrity moms as well as the stories of famous mothers who have made history. At the end of the program, a celebrity host will crown one mom "America's Favorite Mom" and name a rose in her honor. She will also receive thousands of dollars in cash and prizes, including an 18k gold heart-shaped America's Favorite Mom pendant trimmed with dazzling diamonds.
Teleflora is also working with Redbook Magazine and the Hearst Family of Publications as its print partner for America's Favorite Mom. Through this partnership, Redbook will engage readers to nominate their favorite moms, and will also be featuring special moms in upcoming issues.
"Whether it is 1908 or 2008, mothers remain the heart and soul of this country. In honor of the 100th anniversary of Mother's Day, Teleflora wants to celebrate these unsung heroes in a unique way by creating an unprecedented search for America's Favorite Mom," said Lynda Resnick, chairman, Teleflora. "Partnering with NBC to create a primetime television special enables us to introduce these inspirational moms to America and engages the public to decide who should become America's Favorite Mom."
"Partnering with Teleflora and showcasing America's best moms on the 'Today' show creates the perfect platform to recognize these amazing women," said Craig Plestis, executive vice president, Alternative Programming, Development and Specials, NBC Entertainment. "We want to highlight America's favorite mothers on a grand scale and give them the spotlight they deserve."
"REDBOOK is for and about moms who make a difference," said editor-in-chief Stacy Morrison. "Partnering with Teleflora to find America's Favorite Mom is a natural fit: our readers love their big, busy lives as moms; and as women, they live each day with joy, optimism, intelligence and style, and we celebrate their stories in our pages. We are looking forward to reading the nominations and to getting to meet even more extraordinary women doing amazing things for their families and their communities."
The show will be produced by Reveille, creators of award-winning hit shows such as "The Office" and "Ugly Betty." Teleflora and Reveille will share executive producing responsibilities.
"Moms are at the core of the American family," said Mark Koops, Managing Director, Reveille, and executive producer of the primetime television special. "We are thrilled to be partnering with Teleflora and NBC to celebrate Mother's Day in such a special way -- by showcasing the most inspiring moms from across the country and crowning America's Favorite Mom."
As an extension to the America's Favorite Mom search, an exclusive Teleflora "America's Favorite Mom" bouquet has been designed for Mother's Day. As with all of Teleflora's bouquets, this unique bouquet will be hand-arranged and hand-delivered by a local Teleflora florist so moms everywhere can feel like "America's Favorite Mom" on their special day.
For more information, please visit: http://www.AmericasFavoriteMom.com
About Teleflora
Teleflora is the world's leading floral service, offering the best choice in floral arrangements and convenient local delivery. Headquartered in Los Angeles, California, Teleflora has over 20,000 member florists throughout the U.S. and Canada, with an additional 20,000 affiliated florists outside North America. Teleflora offers industry-leading floral arrangements and gifts, technology, marketing and education services. Through its extensive member florists' network, Web sites including http://www.teleflora.com and http://www.findaflorist.com, and its toll-free line 1-800-TELEFLORA, the company offers consumers fast, convenient and high-quality flowers and keepsake products.
About NBC
NBC Entertainment develops and schedules programming for the network's primetime, late-night, and daytime schedules. NBC's quality programs and balanced lineup have earned the network critical acclaim, ratings success, particularly among young, upscale viewers, and numerous awards, including more Emmy Awards than any network in television history.
About Redbook
REDBOOK (http://www.redbookmag.com) magazine is the total-life guide for every woman blazing her own path through adulthood and taking on new roles -- wife, mom, homeowner -- without letting go of the unique woman she's worked so hard to become. Readers can also interact with the brand on the digital front, with REDBOOK mobile (m.redbook.com). In addition to its U.S. flagship, REDBOOK publishes a United Kingdom edition. REDBOOK is published by Hearst Magazines, a unit of Hearst Corporation (http://www.hearst.com) and one of the world's largest publishers of monthly magazines, with nearly 200 editions around the world, including 19 U.S. titles and 20 magazines in the United Kingdom, published through its wholly owned subsidiary, The National Magazine Company Limited. Hearst reaches more adults than any other publisher of monthly magazines (74.1 million total adults, according to MRI, spring 07).
About Reveille
Founded in March 2002 by Ben Silverman (now Co-Chairman of NBC Entertainment and Universal Media Studios), Reveille is a leading independent production and distribution company focused on exploiting worldwide intellectual property rights through scripted and alternative television formats. Reveille produces innovative entertainment programming across all television genres such as the award-winning shows "The Office" (NBC), which has received three Emmy Awards, one Golden Globe Award, two Television Critics Association Awards, a Screen Actors Guild Award and a Peabody Award; "Ugly Betty" (ABC), winner of three Emmy Awards, two Golden Globe Awards, a Screen Actors Guild Award as well as a Peabody Award, an NAACP Image Award and a GLAAD Media Award; and "The Tudors" (Showtime), winner of two Emmy Awards. Reveille also produces the highly anticipated "American Gladiators" (NBC) and the upcoming "My Dad Is Better Than Your Dad" (NBC), "The N's Student Body" (The N) and "Eyes on Target" (The History Channel). In addition, the company produces "The Biggest Loser" (NBC), "Identity" (NBC), "House of Boateng" (Sundance Channel), "30 Days" (FX), "Blow Out" (Bravo), "Bound For Glory" (ESPN), "Nashville Star" (USA), "Date My Mom" (MTV), and "The Restaurant" (NBC). Reveille is the world leader in creating integrated marketing opportunities for leading advertisers while developing alternative financing paradigms. In addition, Reveille distributes its growing library of programming, along with a broad array of programming acquired from independent producers and U.S. networks, to more than 150 countries worldwide through Reveille International. The company also creates, acquires and develops a broad slate of diverse films through its feature film division, Reveille Motion Pictures. Reveille's offices are located in Los Angeles.