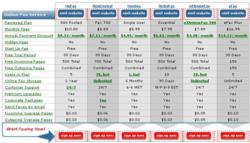 We strive to maintain accurate information for the providers that we review in addition to reviewing emerging providers in the industry. Our goal is to give site visitors the information they need in order to make an informed buying
Austin, TX (PRWEB) July 23, 2011
Many organizations find the need for a quality online fax service in today's business environment. FaxCompare.com helps fill this critical need by announcing the addition of a new product review of the Fax87 service to the extensive collection of quality products featured on the website. The new review brings the total number of fax products to 26 that are measured against the industry standard.
The new Fax87 service review rates the product above the industry standard on FaxCompare.com with no notable cons highlighted by the website's staff. Monthly plans include more than 1,000 combined pages, email to fax, support for an unlimited number of email addresses, unlimited online fax storage, and a 10% discount for consumers choosing to prepay annually.
Not all online fax services include live customer support via phone for business clients. FaxCompare.com researchers assess the Fax87 product as having a high quality customer support department, included with the low monthly cost of the product. Support services and all fax features are available during the 15-day trial period offered by Fax87.
FaxCompare.com Category Manager, Koby Wong states, "We strive to maintain accurate information for the providers that we review in addition to reviewing emerging providers in the industry. Our goal is to give site visitors the information they need in order to make an informed buying decision when an individual decides to visit our site."
FaxCompare.com technicians are dedicated to testing emerging market products and service lines, such as Fax87. As quality service plans are found, website staff publish fresh reviews, including all available discount offers available to site visitors.
About FaxCompare.com:
FaxCompare.com is a leading online fax comparison and review site and has been reviewing fax services for more than three and half years. The company has a robust research team that tests and evaluates all products reviewed. All technical and evaluated data is stored on an in-house database to ensure consistent information is shared across product reviewers.
Contact Details:
FaxCompare.com
Lindsey Marino
401 Congress Avenue, Suite 1540
Austin, TX 78701 USA
Phone No. 512-448-9031
Website : http://www.faxcompare.com
###