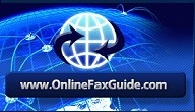 This short informative video shows why FAXAGE is one of the most cost-effective online fax service providers.
(PRWEB) January 17, 2012
A new video entitled "FAXAGE - A Closer Look At This Online Fax Service Provider" has been released by OnlineFaxGuide.com, a comprehensive online fax portal dealing with all aspects of Internet Fax. This video takes a closer look of one of these fax providers to give viewers and potential customers a much better understanding and appreciation of one of the most cost-effective fax services on the web - Faxage.
Faxage is owned and run by EC Data Systems Inc., which is a "Software As A Service" company located in Denver, Colorado. It has been in operation since 2002 and is run by one of its founders - Christian Watts.
Faxage has long offered some of the best rates and the best values for your faxing dollar, but many people are still unaware of what Faxage has to offer and this was the main reason for the video. In an online interview, when asked why any business owner should use Internet Fax, Watts replied: "The primary advantages of Internet fax are two-fold: Cost Savings and Location Independence."
In regards to "cost savings" - Faxage is one of the few fax providers who offer a "Pay-As-You-Go" plan with the low monthly rate of $3.49 and additional faxes cost just 5 cents a minute. But this provider also has a wide variety of fax plans to suit any customer or client looking for a reliable, yet very affordable fax service. There is a small $5 sign-up fee for most accounts. However, all plans have unlimited email addresses and unlimited online fax storage at no additional charge.
This video explains all the different plans and services offered by Faxage, a handy overview to help potential customers find the best online fax service plan to meet all their needs. Keep in mind, online or Internet fax services are web based and all one needs is a web connection and an email account in order to send/receive your faxes. It's totally paperless faxing and is considered very environmentally friendly.
In addition, this video points out some of the major reasons why Faxage is the obvious choice for any small to mid-size company or business looking for a cost-effective online fax service. One that offers excellent support and good overall quality.
You can view the Faxage video here: Online Fax Videos.
About Us:
For further information on this new Fax Video and Online Fax Services in general, please visit our main site: http://www.onlinefaxguide.com. and/or simply Download our comprehensive Internet Fax Guide. Onlinefaxguide.com was created in 2006 to give both individuals and companies a handy online comparison guide to all the different fax providers.
###