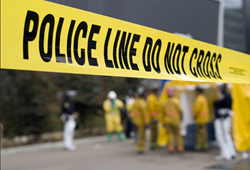 When compared to 2011, the FBI reports show the West suffered a 6.7 percent increase in burglaries and 8.1 percent increase for motor vehicle thefts.
Newport Beach, California (PRWEB) February 07, 2013
According to data recently released by the Federal Bureau of Investigation, the number of violent crimes reported by United States law enforcement officials increased in the first half of 2012. Statistics for January through June of 2012 indicate a nearly 2 percent increase in violent crimes and a 1.5 percent increase for property crime.
When compared by region, the West coast was particularly affected by the rise in criminal activity, increasing by more than 3 percent compared to the previous year. The Midwest suffered the second largest increase (2.5 percent), followed by the South and Northeast (1.1 percent).
When compared to 2011, the FBI reports show the West suffered a 6.7 percent increase in burglaries and 8.1 percent increase for motor vehicle thefts.
Although an increase in violent crimes was experienced throughout the country, there was a silver lining. Half of the offenses within the violent crimes category showed decreases compared to similar reports from 2011. According to the data, forcible rapes fell by, and murders fell by 1.7 percent overall.
Randy Collins, Criminal Defense Attorney, has worked closely with those who have been arrested or charged for minor and serious offenses. "Considering the number of clients we received in 2012, these reports come as no surprise. The steady increase in inquiries related to violent crimes has not gone unnoticed by our firm, and I would not be surprised if other California defense law firms experienced similar scenarios.
"The increase in violent crimes is an alarming reality, which requires a response other than simply incarcerating offenders. For instance, in many domestic violence cases, it may be more beneficial to address issues underlying abuse such as alcoholism or other drug usage as opposed to a jail sentence.
"By treating the cause of the abuse, individuals can resolve internal issues that left untreated may lead to recidivism. In this way, we can lessen instances of domestic violence and help change people's lives for the better," said attorney Collins.
Domestic violence is one example of a violent crime that Attorney Randy Collins believes can be addressed by using alternative sentencing methods.
The statistics gathered were preliminary and only cover the first 6 months of 2012. The FBI has begun collecting human trafficking data and hopes to include new offense categories in upcoming reports.
About MacGregor & Collins, LLP Criminal Defense Attorneys
MacGregor & Collins, LLP is a criminal defense law firm located in Southern California. Its attorneys provide free case evaluations to all first-time callers and provide flat fees under a number of circumstances. Ronald MacGregor and Randy Collins work tirelessly to provide their clients with superior legal representation and honest answers.
If you are in need of a consultation, call (949) 250-6097 to speak with an experienced MacGregor & Collins, LLP legal professional.