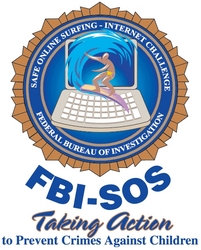 The FBI-SOS program takes this step in a fun and interactive way.
Davie, Fla. (Vocus) September 30, 2009
The Internet has changed the way we work, learn, have fun and communicate with one another in many positive ways; but, it has also created many risks for children as they navigate the Web. In an effort to tackle the challenge of educating students, parents, teachers and communities about the online dangers that exist and ways to recognize, report and avoid online crimes, the Common Knowledge Scholarship Foundation through the Fischler School of Education and Human Services at Nova Southeastern University, has joined forces with the Federal Bureau of Investigation (FBI) to implement the FBI-SOS (Safe Online Surfing) Internet Challenge.
Teachers and administrators can register their schools at http://www.fbi-sos.org. The program is free, simple and requires no installation. The monthly program is now available and runs through May 2010, starting over at the beginning of each month to allow new schools or groups of students to register and participate.
"Educating students about how to recognize online dangers and what to do should they encounter something suspicious is the first step in keeping kids safe," notes Special Agent Jim Lewis, a member of the Miami FBI Crimes Against Children squad, who helped create the program. "The FBI-SOS program takes this step in a fun and interactive way."
To get started a teacher or school administrator visits http://www.fbi-sos.org where he or she requests that their school participate in the program. Students then begin by taking an online, self-scoring Pre-Quiz to measure their knowledge of Internet safety. They then complete an online Scavenger Hunt where they find and learn important internet safety tips. The program concludes with a Post-Quiz where the students demonstrate what they learned. At the end of each month, the school with the highest top 20 scorers on the Post-Quiz is declared the winner and receives that month's FBI-SOS National Trophy, as well as a visit from the FBI. Minnesota, Florida, Washington and California were home to winning schools last school year.
"The FBI-SOS Internet Challenge is not only educational, but creates an exciting level of competition between schools across the country," explains Daryl Hulce, president of the Common Knowledge Scholarship Foundation. "We hope to grow this program to reach every school across the country so kids can be aware and protect themselves."
During the 2008-2009 school year, approximately 16,000 5th through 8th grade students across the country learned how to recognize and react to online dangers by participating in the FBI-SOS Internet Challenge. Thanks to support from FBI Community Outreach Specialists, FBI Agents, and members of FBI Citizens' Academy Alumni Associations across the country, a total of 42,945 students from 226 schools representing 36 states have learned valuable tips for staying safe online by taking the FBI-SOS Internet Challenge.
Common Knowledge Scholarship Foundation (CKSF) administers this educational program, and many others, with the mission to create educational and scholarship opportunities in which participants of all levels have a fair and equal chance to participate and be successful. Developed and administered at Nova Southeastern University through the Fischler School of Education and Human Services, CKSF recognizes winners and awards scholarships through the use of internet-based quiz competitions which can be accessed through http://www.CKSF.org. Since its first scholarship program in 2000, CKSF has developed a wide variety of scholarship and academic enrichment programs for students of all ages. Today, CKSF administers several new contests each month and is growing at a rate of approximately 500 new students per day.
About Fischler School of Education and Human Services at NSU: Serving more than 15,000 students in approximately 40 countries, Nova Southeastern University's Fischler School of Education and Human Services is one of the largest schools of education at an accredited university in the United States. When we opened our doors more than 35 years ago, we shattered the barriers of traditional learning, causing a ripple effect that can still be felt today. Online, On-site, Or on our modern, 18-acre campus in North Miami Beach, Florida, our ideas, our approach, and our programs--found nowhere else in the nation--inspire our students to inspire the people around them to move the world.
About Nova Southeastern University: Situated on 300 beautiful acres in Davie, Florida, Nova Southeastern University is a dynamic fully accredited institution dedicated to providing high-quality educational programs of distinction from preschool through the professional and doctoral levels. NSU has more than 26,000 students and is the sixth largest not-for-profit independent institution nationally. The university awards associate's, bachelor's, master's, specialist, doctoral, and first-professional degrees in a wide range of fields, including business, counseling, computer and information sciences, education, medicine, optometry, pharmacy, dentistry, various health professions, law, marine sciences, early childhood, psychology and other social sciences. For more information, visit http://www.nova.edu.
Contact:
Stacey Promish
954-673-1331
###