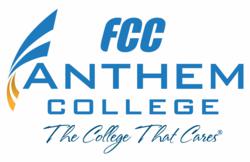 "This is a great location for our first FCC-Anthem College campus," said Michael Schwam, interim Executive Director of FCC-Anthem College Orlando East. "We already have almost 100 students enrolled and anticipate enrolling 600 by the end of the year."
ORLANDO, Fla. (PRWEB) February 01, 2013
Anthem Education Group (AEG) recently opened its first-ever FCC-Anthem College campus, combining the Florida Career College brand name with the Anthem Education Group (AEG) brand which FCC acquired last year. The new campus is located at 989 North Semoran Blvd. in Orlando. It is the 13th campus in Florida and 34th campus nationwide in the AEG family of schools.
"This is a great location for our first combined FCC and Anthem College campus," said Michael Schwam, Anthem Education Group Florida North Regional Vice President and interim Executive Director of FCC-Anthem College Orlando East. "We already have almost 100 students enrolled and anticipate enrolling 600 by the end of the year."
The Orlando East campus offers beginner to advanced diploma programs in Computer Security and Network Technician, Cosmetology, Heating, Ventilation and Air Conditioning (HVAC), Medical Assistant Technician and Medical Front Office and Billing. Students also can receive Associate's Degrees in Computer Security and Network Engineer, as well as Health Services Administration.
Spanning 44,000 square feet, the new campus features environmentally-friendly elements including motion-activated lights and restroom appliances, power-saving air conditioning and controlled water consumption. In addition, the campus was completed in a record 13 weeks from start to finish, making it the fastest campus built by AEG.
FCC-Anthem College provides quality educational programs based on practical-application courses that meet employer-driven requirements, with the goal of enabling graduates to seek viable career options. Diploma programs can be completed in one year or less, which helps students move quickly into the job market.
With well-equipped classrooms, computer and medical labs, clinics and office space and modern technology, FCC-Anthem College allows for convenient year-round study. The programs and small classes are designed to create a positive learning environment where student individuality is recognized, enabling students to meet their unique educational goals. All programs are offered during the day and evening hours, with a limited schedule on Saturdays. As "The College That Cares," FCC-Anthem College assists students with an array of student support services including tutoring, academic advisement and career services to best help them meet their educational goals.
For more information about the FCC-Anthem College East Orlando campus, please call 407-581-4000 or visit http://www.anthem.edu.
###
About Anthem Education Group
Founded in 1965 in Phoenix, Ariz., the Anthem Education Group (AEG) family of schools and colleges provides career-focused training and education programs for the allied healthcare, nursing, veterinary, technology, criminal justice, technical trades, business, paralegal, cosmetology and massage therapy industries. AEG is comprised of 34 institutions in 15 states, as well as an online college. The AEG family of schools and colleges includes Anthem College, Anthem College Online, Anthem Career College, Anthem Institute, Florida Career College, FCC-Anthem College, Morrison University and The Bryman School of Arizona. Specific campuses offer diplomas, Associate of Science, Associate of Applied Science, Bachelor of Science or Master of Business Administration degrees. Campus accreditations include Accrediting Council for Independent Colleges and Schools (ACICS), Accrediting Bureau of Health Education Schools (ABHES) and Accrediting Commission of Career Schools and Colleges (ACCSC). AEG is headquartered at 1000 Corporate Drive, Fort Lauderdale, Fla. For more information, call 888-852-7272 or visit http://www.anthem.edu.