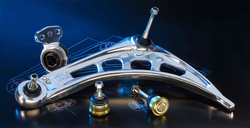 The great thing about Meyle is that they offer quality surpassing OEM standards while still providing affordable prices.
Old Saybrook, CT (PRWEB) February 22, 2010
From humble beginnings, FCP Groton, European Car Parts Specialists, has risen to become one of the most respected European car parts retailers in the country. This has been further solidified with its recent announcement of becoming a top international retailer for Meyle heavy-duty parts. Meyle is known for re-engineering OEM and aftermarket car parts and making them better in every way, supplying unparalleled quality - a good fit for FCP Groton.
"It's a very exciting time for us. We're experiencing rapid growth on the internet and to be able to make an announcement like this is really rewarding," said Nick Bauer, CEO for the company. Despite booming success, FCP Groton keeps a central focus on the customer. "What we've found is that if we involve the customer through online conversations, we get a much deeper understanding of what they want, and they understand that we're real people, too - not a faceless corporation," said Scott Drozd, COO. FCP Groton accomplishes this online conversation and involvement through mediums like Facebook, Twitter, a company blog, and active participation in automotive forums. What they found was that automotive communities were looking for a reliable retailer for high-end car parts.
When FCP Groton first started in the online field, they found that quality control was hit or miss. "It was difficult to tell which manufacturers to trust - which ones would provide us quality parts that we in turn could provide to our customers. We eventually had to take quality control into our own hands," said Scott. The European car parts retailer actually sent engineers to international locales as far as Eastern Europe to analyze the parts at the locations where they were manufactured. This hands-on approach led them to choosing Meyle as a manufacturer for many of the car parts they sell.
Mike Rivera, sales manager at FCP Groton and an ASE-certified technician, agreed that Meyle was a key addition to the inventory, saying, "The great thing about Meyle is that they offer quality surpassing OEM standards while still providing affordable prices."
However, FCP Groton is not likely to rest on its laurels. "We're always looking for new products to offer and new ways to connect with the automotive community," said Max Rossi, Director of Product and Talent Development. One such way is with sponsoring local fundraisers such as Great Strides, a walk for Cystic Fibrosis. "What we hope to accomplish is not only provide a great service, but to build a lasting relationship with the community. Hosting fundraisers such as Great Strides is just one example of how we are reaching out to the community, both local and at large," said Chad Ealden, CFO for the company. FCP Groton also hosts an annual car show in the summer located at its warehouse in Old Saybrook, CT.
FCP Groton currently offers the entire range of Meyle products for BMW, Volvo, Volkswagen, Audi, and Mercedes. Interested customers should call 877-634-0063 for part availability, even if it is not listed on the website.
###