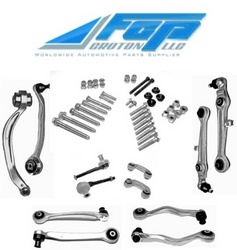 Offering free shipping on a BMW control arm kit or a set of Volvo brake discs and pads is just FCP's way of showing car owners that we care in a difficult economic climate
Old Saybrook, CT (PRWEB) September 1, 2009
Ecommerce auto parts retailer FCP Groton announces its substantial September promotion: All orders over $99 will receive 10% off and FREE UPS Ground shipping when customers use the coupon code "SEPT1PROMO".
A family-owned business, FCP Groton began selling Volvo parts online in 2001 and has quickly established its presence in other European car parts areas: BMW parts, Audi parts, Volkswagen Parts, Mercedes parts, Jaguar parts, Porsche parts, and Saab Parts can now all be found at FCP Groton's website. By running such a large dea, FCP Groton hopes to solidify the loyalty of BMW, Volvo, and other foreign car owners and maintain it's reputation as the go-to ecommerce website for European auto parts. "Offering free shipping on a BMW control arm kit or a set of Volvo brake discs and pads is just FCP's way of showing car owners that we care in a difficult economic climate", says Chad Ealden, CFO. "FCP Groton Coupons are always a big hit, and we expect this round of discounts to be the best one yet.
FCP Groton is a worldwide automotive parts supplier with two locations in Connecticut, USA. The main warehouse and distribution center is located in Old Saybrook, and the retail operations are based out of Groton. The company has become an expert at importing and exporting European automotive replacement products worldwide and distributing them through various sales channels. What sets apart FCP Groton from the rest of their competitors is the way that they source, present, and distribute these European car parts. FCP Groton has cornered the US retail market by supplying custom kits and affordable aftermarket alternatives to dealer parts while maintaining the highest level of customer service and accuracy. Using its strong base of DIY Volvo, BMW, Mercedes, and Porsche owners, FCP Groton has also made an emergence into the global car parts market, gaining more visibility and reputability in the worldwide auto parts retail market.
A large part of FCP's success has been due to its focus on customer service. Having watched his company grow from a small family-owned Volvo parts retail outlet into a large ecommerce auto parts retailer virtually overnight, CEO Nick Bauer has been continually hiring the best customer service representatives to ensure satisfaction. FCP Groton strives to make sure every last customer has a good experience. You can read more about FCP Groton at their blog.
# # #