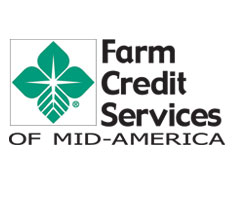 (PRWEB) November 18, 2011
For a young livestock showman, bringing home a banner or trophy from the State Fair represents the ultimate goal of a year of hard work and dedication with their 4-H or FFA animal. However in Ohio in 2011, that almost didn't happen.
Farm Credit's Southwest Ohio Regional Vice President Mike Westfall told how he learned of the Fair's impending dilemma.
"My wife is on one of the State Fair livestock committees, and after one of their meetings, said that all funding for 4-H and FFA awards and premiums at the State Fair had been eliminated," said Westfall. "They really didn't know what they were going to do."
Westfall suggested applying for a grant from Farm Credit's Greater Support for Rural America program, which provides funds to support agriculture, giving priority to youth and young farmers. He and his wife collaborated with Ohio State Fair General Manager Virgil Strickler to write the request, and a few months later, were notified that Farm Credit would donate $21,000. This would cover half the cost of awards and premiums for the beef, swine, chicken, sheep and goat shows, with the remaining half being furnished by other supporters. In all, these shows included 5,000 youth exhibiting 8,000 animals.
Ohio State Fair General Manager Virgil Strickler is a former 4-H and FFA member himself and knows well the importance of those programs to a young person's development. He also recognizes the role of tangible awards in motivating and reinforcing leadership development, work ethic, responsibility, and many other lessons.
"In today's economic environment, everyone's budget is tight and there's no way we could have funded those awards on our own," he said. "We were very fortunate to have Farm Credit and others step forward to help us. Without the awards, it would have really hurt our shows, and we feel it's extremely important to keep the agricultural side of the fair going. The families of the young people were also very appreciative."
Westfall, also a former 4-Her, now serves on one of the State Fair livestock committee as well as the Ohio 4-H Foundation Board. He was glad to have been a link in helping to keep a tradition alive.
"At Farm Credit, a very large percent of our employees have been in 4-H or FFA and many have children in those programs, so we're very aware of their value. There are few things as rewarding as being able to help kids who have worked on their projects all year," he said. "We get as much out of it as they do."
Westfall added that helping rural communities is an integral part of Farm Credit's mission.
"We're here to support both agriculture and rural communities, and 4-H and FFA are an important part of their fabric," he said. "Our mission goes beyond just providing financial services. That's why we have a stewardship program—we use some of our profits to put back into those rural communities we serve."
Earlier this month, Farm Credit announced that the ag lender will also support the program in 2012.
About Farm Credit Services of Mid-America
Farm Credit Services of Mid-America is a $17.1 billion financial services cooperative serving over 92,500 farmers, agribusinesses and rural residents in Kentucky, Ohio, Indiana and Tennessee. The association provides loans for all farm and rural living purposes including including real estate, operating loans,equipment loans, and housing loans. FCS also provides an array of financial services, including crop insurance and leases. For more information about Farm Credit, call 1-800-444-FARM or visit them on the web at http://www.e-farmcredit.com.
###