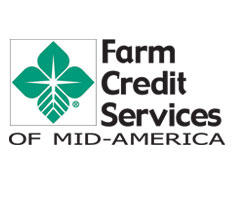 We experienced loan volume growth due to rallying farm commodity prices that led to stronger sales activity and increased demand for land and equipment purchases ~Donnie Winters, President and CEO
Louisville, KY (Vocus/PRWEB) March 17, 2011
Farm Credit Services of Mid-America, an agriculture finance cooperative with more than 92,000 customers throughout Kentucky, Ohio, Indiana and Tennessee, has reported strong financial results for 2010.
The ag lender – which celebrated 25 years as an ag lender to rural America on December 31, 2010 – topped $17.5 billion in owned and managed assets, growing 5.9 percent in 2010. At nearly $214 million, earnings were good, up 51 percent compared to 2009. Additionally, special programs such as equipment loans and financing through equipment dealerships added over $237 million in volume, about 12 percent of the market. Crop insurance, a key risk management strategy for FCS, also grew in 2010, with the association insuring over 1.2 million acres representing $33 million in premiums.
"We experienced loan volume growth due to rallying farm commodity prices that led to stronger sales activity and increased demand for land and equipment purchases," said Donnie Winters, president and chief executive officer. "Other factors contributing to strong earnings included adding almost 9,000 new customers to the portfolio and Farm Credit System Insurance premium savings."
FCS lowered rates across the board in February 2011
Winters stated that last year's strong earnings and fundamental strength of the cooperative over the last several years allowed Farm Credit to lower customer interest rates in early 2011. "In February, Farm Credit rolled back interest rates on all existing loans by .35 percent creating an annual savings to customers of $43 million," he said. Additionally, the association adjusted the spreads on future loans by .35 percent.
Conversion program saves customers $140 million
In addition to lowering interest rates, more than 33,000 loans (representing $5 billion in volume) were converted to lower rates in 2010 saving customers an estimated $140 million in interest expense over the next thee years.
The Loan Conversion Option gives customers the ability to quickly and easily change the interest rates on their Farm Credit loans during the term of those loans. The option consists of an amendment to the loan agreement which authorizes Farm Credit to change the type of loan product being used for a very small processing fee. When favorable rates are available, customers can take advantage of the reduction without the expense of refinancing.
"These two programs are tangible benefits in a long line of actions by Farm Credit over the last 25 years to provide lower interest rates and quality service to farmers and rural America, as well as build a cooperative with capital strength," said Winters. "It is also an indicator of our commitment to both current and future members."
Complete financial results can be found on the Farm Credit Services of Mid-America website, or by clicking here: 2010 Farm Credit Services of Mid-America Annual Report
###