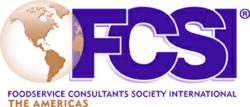 Bloomington, IL (PRWEB) February 22, 2013
FCSI-The Americas, the only consulting society dedicated to serving independent foodservice design and hospitality management professionals, is proud to announce that longtime member Ed Norman, FCSI, immediate past chair of The Americas' Board of Trustees, has been elected President of FCSI Worldwide. Norman, principal at MVP Services Group in Dubuque, IA, was named president during the semi-annual North American Food Equipment Manufacturers (NAFEM) Show in Orlando, FL, which ran from February 7-9.
As president of FCSI Worldwide, Norman will oversee the FCSI Worldwide Board, consisting of representatives from its' three Divisions during his one-year term, (The Americas, Europe Africa Middle East and Asia Pacific). FCSI Worldwide's mission is to promote the foodservice consulting profession and educate foodservice consultants worldwide.
Norman and FCSI-The Americas Chairman Jim Petersen, who operates Michigan- based C.i.i. Foodservice Design, each also received honorary Doctorates of Foodservice medallions from NAFEM during the NAFEM show.
FCSI-The Americas kicked off the week by hosting more than 150 hospitality industry professionals at its own half-day event on February 6, Foodservice Trends and Innovations. The event offered attendees a series of presentations focusing on trends from experts in healthcare, academia, business and industry settings. The association also exhibited during the NAFEM show, distributing education and information to the thousands of show attendees.
"Our members always look forward to the NAFEM week, which allows them to network with industry leaders and learn about the latest developments in foodservice equipment and technology," said Wade Koehler, executive director, FCSI-The Americas.
About FCSI-The Americas
For more than 50 years, FCSI-The Americas has served as the voice of independent foodservice and hospitality consultants, defining excellence in the development, execution and process flow implementation of commercial foodservice design and hospitality management. Visit the website at http://www.fcsi.org/?page=TALanding.
###