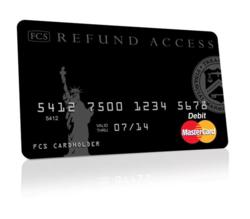 "The Refund Access Card will be a 'must have' for offices servicing the under-banked taxpayer. We expect the card to save our existing offices' and taxpayers' time and money."
Pekin, IL (PRWEB) September 26, 2012
ATLAS Financial Services today announced that it has aligned its tax refund transfer services with Futura Card Services (FCS) Refund Access Prepaid MasterCard program. After a successful pilot program with select Atlas Financial service bureaus during the 2012 tax season, ATLAS Financial Services and FCS have agreed to offer a fully integrated prepaid card program available to all qualifying ATLAS Financial Services tax preparation customers.
ATLAS Financial Services' tax preparation customers will now be able to offer the FCS Refund Access Card as a safe and convenient alternative to paper checks and check cashing fees. Tax payers who choose the FCS Refund Access Card to receive their tax refund will receive a text message notifying them when their tax refund has been deposited to their card account and their funds are available for use. The FCS Refund Access Prepaid MasterCard can be used everywhere Debit MasterCard is accepted and for cash withdrawals at ATMs.
"Atlas Financial Services' position in the tax industry will play a key role in FCS becoming one of the leading providers of prepaid cards to service bureaus and independent tax preparers nationally," said Brad Golden, President of Futura Card Services. "Our tax channel is one of the fastest growing segments of our business and we will continue to deliver payment solutions that meet the needs and objectives of our strategic tax channel partners."
"The partnership with FCS will provide our customers with an additional disbursement option and a product in high demand. The FCS Refund Access Card is convenient and more efficient by way of eliminating extra steps in the process, such as check printing and a return visit to the office by the taxpayer." said Bob Johnson, Vice President of ATLAS Financial Services. "The Refund Access Card will be a 'must have' for offices servicing the under-banked taxpayer. We expect the card to save our existing offices' and taxpayers' time and money."
About Futura Card Services (FCS)
Futura Card Services designs and manages prepaid MasterCard and VISA card programs. FCS offers both direct to market products as well as white label products for its business and public sector clients. FCS specializes in delivering creative, custom, channel specific solutions, to meet the needs of the niche markets it serves.
This card is issued by Metropolitan National Bank pursuant to a license by MasterCard International Incorporated. MasterCard and the MasterCard brand mark are registered trademarks of MasterCard International Incorporated.
http://www.fcsRefundAccess.com
About ATLAS Financial Services
ATLAS Financial Services has been processing Tax Related Refund Settlement Products since 1989. ATLAS offers products and opportunities to all tiers of the Tax industry, including EROs, Service Bureaus, Banks, Transmitters and other Trading Partners. ATLAS Financial Services continues to deliver new partnerships and products every year, making them one of the more dynamic Bank Processors in the industry today. ATLAS Financial Services' online, 'turn-key' management system, the ATLAS Administration System, developed and maintained in-house, is the key to the continued success of its unique product and program offerings.
http://www.ATLASfinancialservices.com
Source: Company press release.
For further information:
ATLAS Financial Services
Bob Johnson
309.349.8234
bjohnson (at) atlasfinancialservices (dot) com
Futura Card Services (FCS)
Philip Lugo
858-345-1482
plugo (at) fcsprepaid (dot) com