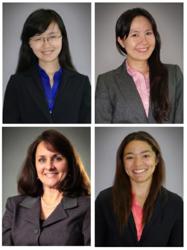 Glen Burnie, MD (PRWEB) June 12, 2013
FDAImports.com, LLC and Benjamin L. England and Associates, LLC continue to expand in their efforts to provide quick, competent, satisfying legal and regulatory counsel to FDA- and USDA-regulated companies around the world. Join us as we welcome an attorney, a regulatory specialist, and two administrative associates.
Ge Song
Ge is an attorney with Benjamin L. England & Associates, LLC practicing Food and Drug Law, with a dual legal education: she holds a Bachelor of Laws from the University of International Business and Economics in Beijing, China, and both a Master of Law in Intellectual Property & Technology and a Juris Doctor from Washington University in St. Louis. While pursuing her J.D., Ms. Song interned with the U.S. Securities and Exchange Commission, in its Enforcement Division in Washington, D.C. She studied for a year at Georgetown University, and interned there with Adjunct Professor Honorable Judge Francis M. Allegra of the Court of Federal Claims. She is admitted to the New York Bar. In her free time, Ms. Song enjoys reading literature and watching shows.
Yun-Sang Cheah
Yun-Sang (Naomi) is a Regulatory Specialist with FDAImports.com, LLC. She earned a B.S. in Life Sciences, with a specialty in Biotechnology, from Zhejiang University, Hangzhou, China, and graduated in May 2013 with an M.S. in Public Health from Johns Hopkins School of Public Health in Baltimore. Ms. Cheah provides business consulting and regulatory assistance to the firm's food and drug clients. She is fluent in Mandarin, Cantonese and Malay. In her free time, she enjoys reading, dancing, playing sports, and cooking.
Alison Johnson
Alison is an Administrative Associate. She holds a Bachelor of Business Administration from Texas Christian University, with concentrations in Management and Marketing. Alison handles a multitude of bookkeeping responsibilities for the firm, as well as a wide variety of special projects that are finance and/or human resources-related. In her free time, she enjoys downhill skiing, culinary adventures, and traveling.
Nichole Sheppard
Nichole is an Administrative Associate. She attended Sojourner Douglass College, where she recently graduated with a Bachelor of Arts in Administrative Management. As an Administrative Associate, Ms. Sheppard is responsible for Accounts Receivable and client invoicing. In her free time, she enjoys spending time with her family and friends and going to the beach during the summer.
About FDAImports.com
FDAImports.com is an FDA consulting firm helping U.S. and foreign companies navigate through and meet complex FDA regulations for marketing and importing foods, dietary supplements, drugs, cosmetics and medical devices. Benjamin L. England, Founder and CEO, is a former 17-year veteran of the FDA and served as the Regulatory Counsel to the Associate Commissioner for Regulatory Affairs. Contact: Anne Lehan, (410) 220-2800 or pr(at)fdaimports.com.
###