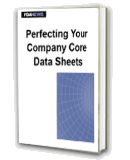 Falls Church, VA (PRWEB) April 10, 2014
Perfecting Company Core Data Sheets: Perfecting Company Core Data Sheets:
A Guide for Authoring and Updating CCDS —2014 Edition
**FDAnews Management Report**
http://www.fdanews.com/CompanyCoreDataSheets
The CCDS is the prime reference document for every drug or biologic. It is the central document regulators and resellers rely on to label and manage the drug's use.
Approved indications, dosing requirements, methods of administration, concerns of special patient populations, packaging and storage requirements and limitations, incompatibilities and pharmacological properties all must be in the CCDS, plus safety information.
And there's more. Each CCDS must be updated to reflect the drug's evolution. New indications, dosing changes, changes in handling procedures, safety concerns, all those factors and more must be added in on a regular basis.
What's the best way to correctly handle these essential documents? Get up to speed with the authoritative report from FDAnews: Perfecting Your Company Core Data Sheets: A Guide for Authoring and Updating the CCDS -2014.
In this newly updated 2014 edition there is an expanded section on company core safety information (CCSI), including:

Practical strategies for developing complete company core safety information
A roadmap for conducting safety review meetings and determining what to include and exclude in the CCSI
How to comply with the new requirements of the FDA's investigational new drug safety reporting rules
How and when to include postmarketing and clinical trial data in ADR tables
In addition, this guide spells out how to draft and maintain a CCDS for each product, a start-to-finish explanation that includes:
Essential elements every CCDS must have
Updating and maintaining CCDSs — what's working and what's not
What safety data should and should not be included in CCDS
Formatting the CCDS to satisfy international regulatory agencies and end-users
The approval mechanism for a new and a revised CCDS
Perfecting Your Company Core Data Sheets answers the toughest questions:
How frequently should a CCDS be updated?
Is it wiser to start a CCDS early in the drug development process or wait until initial submissions are being prepared?
At what point must safety issues be addressed in the CCDS (and when should they not be?)
Can more than one drug name appear in a CCDS?
With Perfecting Your Company Core Data Sheets: A Guide for Authoring and Updating the CCDS - 2014, drugmakers will have the tools to create and maintain a CCDS that will withstand regulatory scrutiny, and avoid the unnecessary extra work that comes from assuming what's the best way to write them.
Management Report Details:
Perfecting Company Core Data Sheets: Perfecting Company Core Data Sheets:
A Guide for Authoring and Updating CCDS —2014 Edition
**FDAnews Management Report**
http://www.fdanews.com/CompanyCoreDataSheets
Format: Print or PDF
Price: $377
Easy Ways to Order:
Online: http://www.fdanews.com/CompanyCoreDataSheets
By phone: 888-838-5578 or 703-538-7600
About FDAnews:
FDAnews is the premier provider of domestic and international regulatory, legislative, and business news and information for executives in industries regulated by the US FDA and the European Medicines Agency. Pharmaceutical and medical device professionals rely on FDAnews' print and electronic newsletters, books and conferences to stay in compliance with international standards and the FDA's complex and ever-changing regulations.